Soy Desserts Recipes
Can a sweet tooth and soy nutrition co-exist? These soy desserts recipes prove it. You'll taste that heart healthy soybean oil is the perfect frying oil for donuts or a delicious icing. Or that Tofu is a good source of protein to add to baked goods or a delectable cheesecake. Dig in!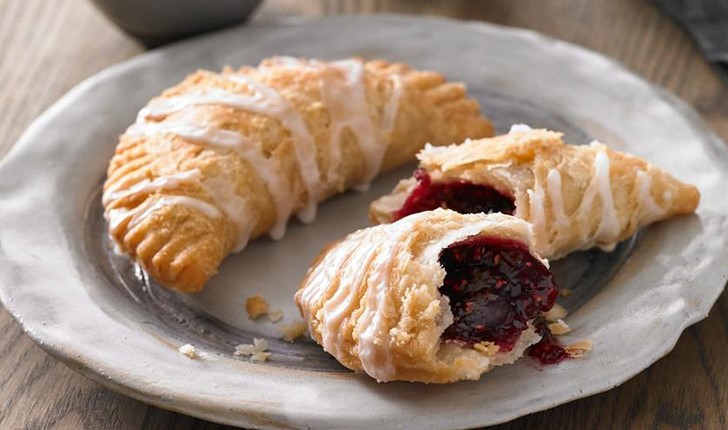 Prep Time:

30 min

Cook Time:

15 min

Total Time:

45 min

Makes:

18 servings
Jam & Fruit Hand Pies
Ingredients
3 cups All-purpose flour, plus more to coat surface

1⁄2 teaspoon Salt

1 cup Soybean oil-based shortening

6 tablespoons Ice water

3⁄4 cups 100% Fruit-based jam, divided

1 Large egg, beaten

6 cups Soybean oil (for deep frying)

1 cup Powdered sugar

3 tablespoons Milk
Instructions for Jam & Fruit Hand Pies
Place flour and salt in a large bowl. Cut in shortening with a pastry cutter until mixture forms coarse crumbs. Gradually add ice water, mixing until dough can be formed into a ball. Transfer to a floured surface and knead lightly.
Roll out dough 1/8-inch thick on a lightly floured surface. Cut into 18 circles (5-inch each), re-rolling dough pieces as needed
Place 2 teaspoons jam into the center of each dough circle. Brush edges with egg; fold the edge of the dough over the jam to form a half circle. Crimp edges to seal. Bake or fry as desired.
Baking Instructions:
Preheat oven to 350°F.
Place pies on a baking sheet. Brush pies with the beaten egg and prick tops with fork tines. Bake for 25 to 30 minutes until golden brown; cool completely. Mix powdered sugar and milk together. Drizzle over pastries.
Frying instructions:
Preheat soybean oil to 365°F.
Fry for about 4 minutes, carefully turning once, until golden brown. Drain on paper towels. Cool completely. Mix powdered sugar and milk together. Drizzle over pastries.