Soy Desserts Recipes
Can a sweet tooth and soy nutrition co-exist? These soy desserts recipes prove it. You'll taste that heart healthy soybean oil is the perfect frying oil for donuts or a delicious icing. Or that Tofu is a good source of protein to add to baked goods or a delectable cheesecake. Dig in!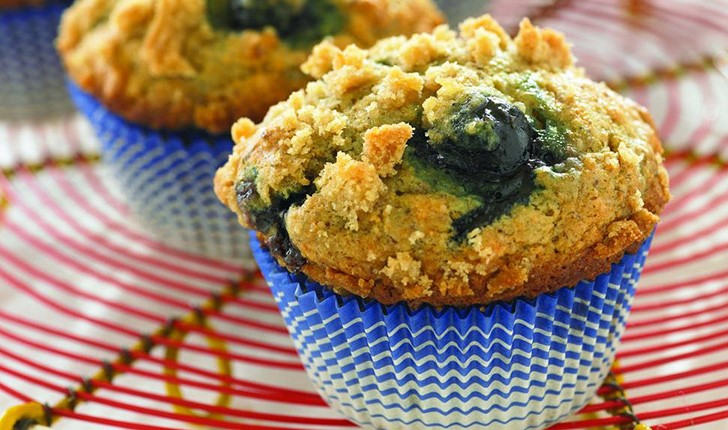 Prep Time:

10 min

Cook Time:

20 min

Total Time:

30 min

Makes:

12 servings
Whole Grain Flax and Berry Muffin
Ingredients
1 cup Whole wheat pastry flour

3⁄4 cups All-purpose flour

1⁄2 cup Brown sugar, packed

1⁄4 cup Flax seed meal

2 teaspoons Baking powder

1 teaspoon Baking soda

1⁄4 teaspoon Salt

1⁄2 cup Soybean oil

1 cup buttermilk

1 Egg, beaten

1 teaspoon Vanilla extract

1 1⁄2 cup blueberries, frozen

2 tablespoons All-purpose flour

2 tablespoons Brown sugar, packed

1 tablespoon Soybean oil
Instructions for Whole Grain Flax and Berry Muffin
Preheat oven to 375°F. Paper-line or grease 12 muffin cups.
Combine flour, whole wheat flour, brown sugar, flax meal, baking powder, baking soda and salt in medium bowl; set aside.
Whisk buttermilk, soybean oil, egg and vanilla in large bowl. Pour into flour-mixture and stir until just blended. Stir in blueberries until just blended. Spoon batter into prepared muffin cups, filling 3/4 full.
Mix Streusel Topping ingredients in small bowl. Sprinkle over portioned muffins.
Bake for 18 to 22 minutes until edges and tops are golden