Soy, a well known food throughout the world, is a versatile ingredient that is ideal in a variety of delicious and easy to make recipes. From flavorful sides to decadent desserts, discover the joy of cooking with soy!
Expert Recommended Recipes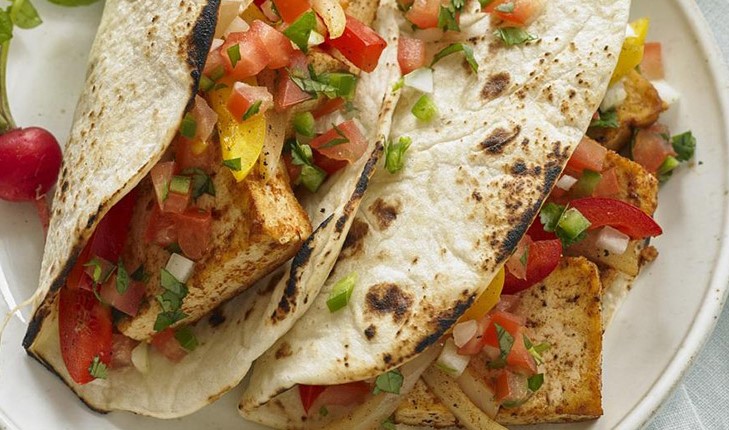 Prep Time:

15 min

Cook Time:

45 min

Total Time:

1 hora

Makes:

6 porciones
Fajitas de vegetales y tofu
Ingredients
3 cucharadas de jugo de lima fresco

2 cucharaditas de pimentón

2 cucharaditas de comino molido

3 dientes de ajo picados

1 jalapeño pequeño, sin semillas, finamente cortado en cubitos

1⁄2 cucharadita de sal

12 onzas de tofu, extra firme, escurrido (1 bloque)

2 pimientos, sin el centro, sin semillas y en rodajas

1 cebolla, pelada y en rodajas

2 cucharadas de aceite de soya

12 tortillas de maíz o harina (calentadas)

3⁄4 tazas de guacamole

3⁄4 tazas de pico de gallo, comprado en la tienda

1⁄2 taza de yogur griego simple
Instructions for Fajitas de vegetales y tofu
1. Combinar el jugo de lima, pimentón, comino, ajo picado, jalapeño y sal; dejar de lado.

2. Cortar el tofu en doce piezas de 1x1x3 pulgadas. Coloque los trozos de tofu en una fuente para hornear; cubrir con la marinada. Refrigerar al menos una hora o más, volteando el tofu ocasionalmente para marinarlos igualmente.

3. Calentar 2 cucharadas de aceite de soya en una sartén grande antiadherente a fuego medio alto. Agregar el tofu, girándolo con frecuencia, hasta que esté dorado y crujiente; Retirar el tofu del sartén. Agregar los pimientos y las cebollas al sartén, cocinar hasta que estén suaves, aproximadamente 8 minutos. Revolver suavemente el tofu en trozos; sacar del sartén.

4. Servir con tortillas, guacamole, salsa y yogurt.