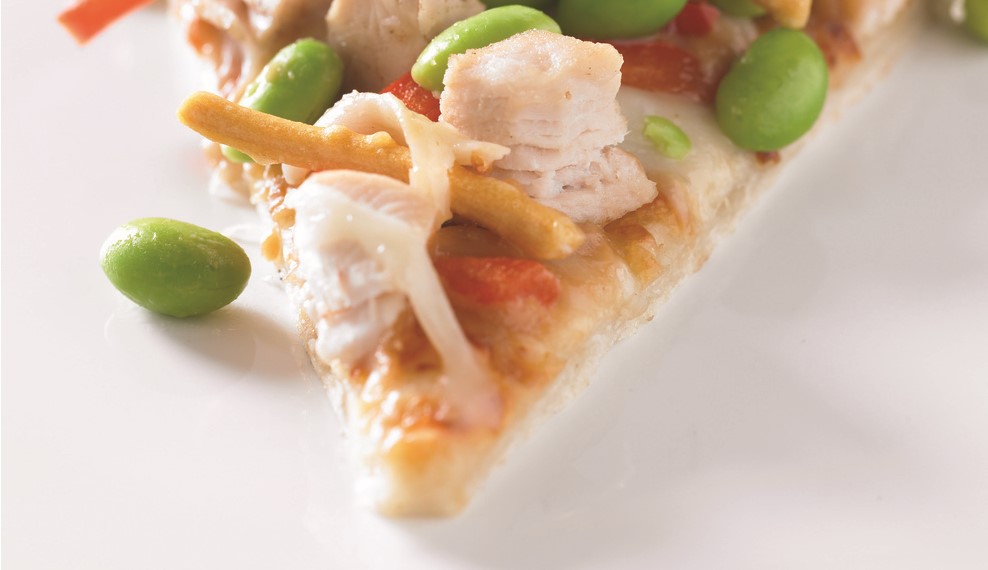 Prep Time:

10 min

Cook Time:

8 min

Total Time:

18 min

Makes:

8 servings
Asian Chicken Pizza With Edamame
Ingredients
3 tablespoons Peanut butter

2 tablespoons Water

1 1⁄2 teaspoon Soy sauce

1 1⁄2 teaspoon White rice vinegar

1 1⁄2 teaspoon Fresh ginger, minced

1 Pre-baked pizza crust, 12-inch

1⁄2 cup Reduced-fat mozzarella cheese, shredded

1 cup Cooked chicken breast, diced

1⁄2 cup Edamame, shelled, cooked according to package directions

1⁄2 cup Red bell pepper, sliced

1⁄4 cup Chow mein noodles
Instructions for Asian Chicken Pizza With Edamame
Preheat oven to 450°F.
Combine peanut butter, water, soy sauce, vinegar and ginger in small bowl; stir until smooth.
Place pizza crust on foil-lined baking sheet. Spread peanut butter mixture evenly over pizza crust. Sprinkle cheese, chicken, edamame, bell peppers and chow mein noodles evenly over crust.
Bake 8 to 10 minutes until cheese is melted. Cut into 8 slices and serve.