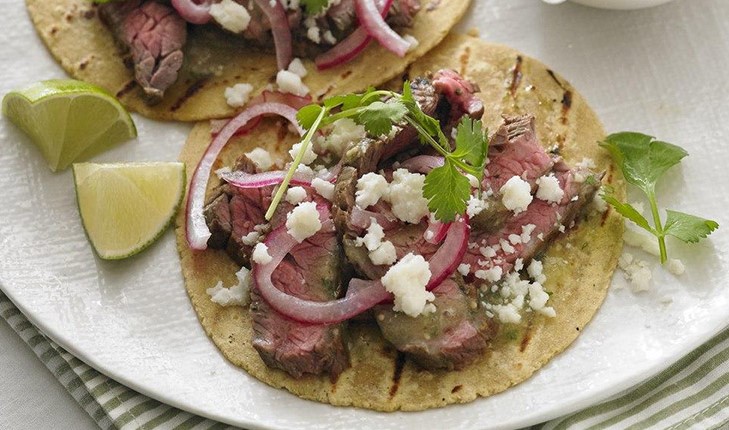 Prep Time:

15 min

Cook Time:

1 hour 15 min

Total Time:

1 hour 30 min

Makes:

8 servings
Carne Asada
Ingredients
1 cup Fresh cilantro leaves, packed

1⁄2 cup Soybean oil

1⁄4 cup fresh orange juice

4 cloves Garlic, chopped

1 Fresh jalapeño, stemmed, seeded and chopped

2 tablespoons Fresh lime juice

1 1⁄2 pound Skirt or flank steak, trimmed

16 6-inch corn tortillas (heated)

1 cup Salsa verde, store bought

1⁄2 cup Pickled red onion

1 cup Fresh cilantro leaves, chopped

1 cup Crumbled cotija cheese or queso fresco (4 oz.)

2 Limes, cut into wedges
Instructions for Carne Asada
Puree cilantro, soybean oil, orange juice, garlic, jalapeno and lime juice in blender until smooth. Place marinade in large bowl with steak; marinate for at least 1 hour at room temperature or refrigerate for 3 hours.

Preheat grill medium high. Remove steak from the marinade, place on grill. Cook, flipping once, about 3 minutes per side for medium rare (135° F) or until desired level of doneness. Let steak rest for 10 minutes; slice into thin strips.

Assemble tacos with tortillas, steak, salsa, pickled onion, cilantro and cheese. Serve with lime wedges for squeezing over.