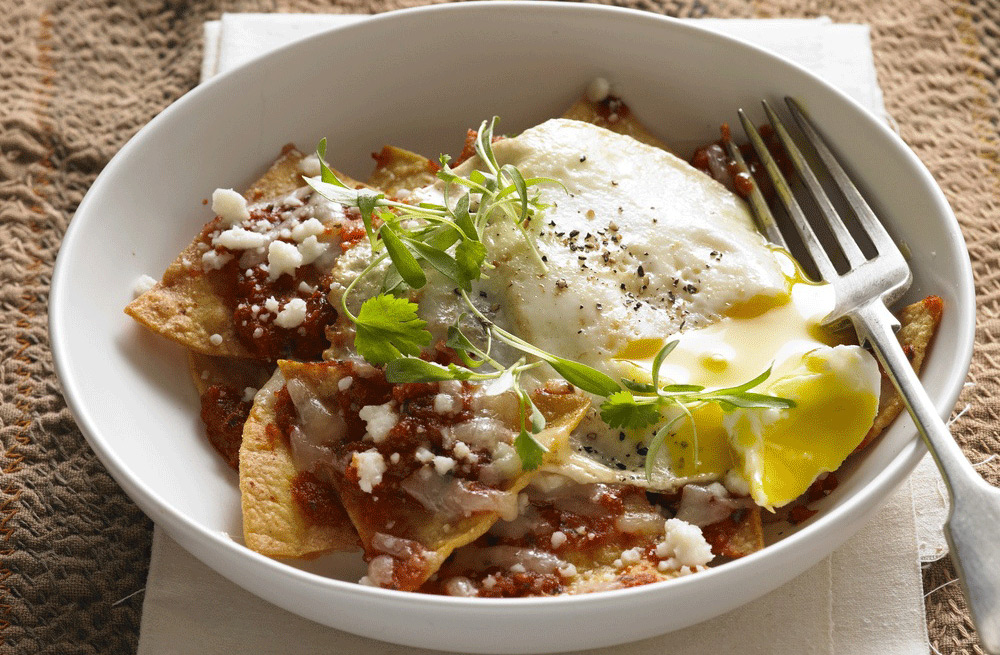 Prep Time:

5 min

Cook Time:

15 min

Total Time:

20 min

Makes:

4 servings
Chilaquiles
Ingredients
1 can Whole tomatoes, peeled, unsalted, 1/2 cup of juice reserved (12 oz. can)

1 Jalapeño, with seeds, roughly chopped

1 Small white onion, chopped

1 Chipotle chile in adobo

4 cloves Garlic

1⁄4 cup Fresh cilantro, chopped

1⁄4 teaspoon Salt

1 tablespoon Soybean oil

1⁄2 cup Soybean oil

4 6-inch corn tortillas (cut into triangles)

1⁄4 cup Shredded jack cheese

2 tablespoons Cotija cheese, crumbled

4 Eggs
Instructions for Chilaquiles
Place tomatoes, reserved tomato juice, jalapeño, onion, chile, garlic, cilantro and salt in blender. Puree for 30 seconds until smooth.

Heat 1 tablespoon soybean oil in medium saucepan over medium heat. Add tomato mixture, stir to thicken; remove from heat.

Heat 1/2 cup soybean oil in medium non-stick frying pan over medium heat. Fry tortilla pieces until crisp. Drain on paper towels.

Drain oil from pan; add eggs and cook to desired doneness.

Preheat oven to broil. Layer tortillas, tomato mixture and cheeses in oven safe dish. Broil until cheese is melted, watch carefully.