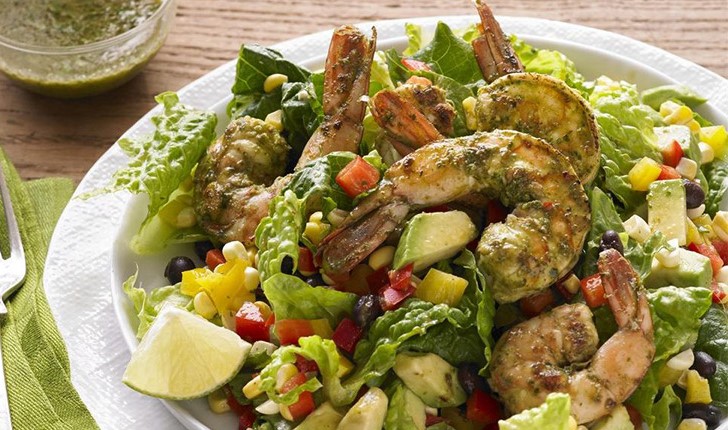 Prep Time:

10 min

Cook Time:

20 min

Total Time:

30 min

Makes:

4 servings
Chipotle Shrimp Salad
Ingredients
1⁄2 cup Red wine vinegar, divided

4 tablespoons Soybean oil, divided

1⁄2 cup Cilantro, chopped

3 cloves Garlic, chopped

1 tablespoon Chipotle chile in adobo

12 Large shrimp, raw, peeled and deveined

12 cups Chopped romaine hearts

1 cup Fresh corn kernels

2 Sweet bell peppers, diced

1 cup Black beans, drained and rinsed

1 Ripe avocado, peeled, pitted and diced
Instructions for Chipotle Shrimp Salad
Puree 1/4 cup vinegar, 2 tablespoons soybean oil, cilantro, garlic and chipotle in blender until smooth. Reserve 2 tablespoons marinade mixture to small bowl; set aside.

Place remaining marinade in medium bowl. Add shrimp, toss to coat; refrigerate for 1 hour.

Whisk reserved 2 tablespoons marinade with remaining vinegar and soybean oil. Season to taste with salt and pepper; set aside.

Heat large non-stick frying pan over medium heat. Add shrimp, cooking until just opaque in the center.

Combine lettuce, corn kernels, bell peppers, black beans and avocado on large platter. Drizzle salad with prepared dressing, tossing lightly. Top with warm shrimp.