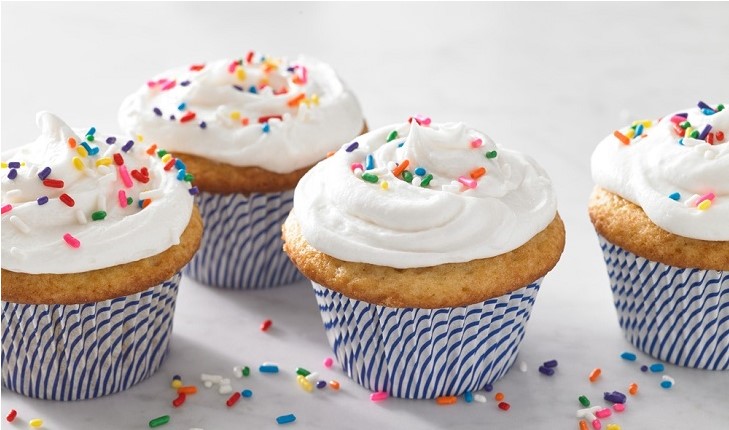 Prep Time:

15 min

Cook Time:

20 min

Total Time:

35 min

Makes:

24 servings
Classic Cupcakes with Fluffy Icing
Ingredients
2 1⁄2 cups All-purpose flour, sifted

2 1⁄2 teaspoons Baking powder

1⁄2 teaspoon Baking soda

1 teaspoon Salt

4 Large eggs, beaten

1 1⁄2 cup Sugar

1 cup Soybean oil

1 tablespoon Vanilla extract

1 cup buttermilk
Instructions for Classic Cupcakes with Fluffy Icing
Cupcakes
Preheat oven to 350°F. Line 24 muffin cups.
Sift flour, baking powder, baking soda and salt into a medium bowl.
Beat eggs and sugar in a large bowl with an electric mixer on medium speed for 1 minute. Add soybean oil and vanilla; beat for an additional 1 minute.
Reduce mixer speed to low. Slowly add flour mixture to the large bowl, alternating with buttermilk, and scraping the sides of the bowl as needed. Spoon batter into prepared muffin cups using a ¼ measuring cup or #16 scoop, filling each cup to about half full.
Bake for 20 to 22 minutes until cupcake springs back when touched.
Cool completely. Frost with Fluffy Icing.
Fluffy Icing
½ cup Soybean oil-based shortening
½ cup Whole milk
1 teaspoon Vanilla extract
½ teaspoon Salt
1 ½ lbs. (about 7 ½ cups) Powdered sugar
Beat shortening, milk, vanilla and salt in a medium bowl on low speed, gradually adding powdered sugar until combined.
Increase mixer speed to high; beat 3 minutes until smooth and fluffy. Add additional powdered sugar or milk to achieve desired consistency.
*For lemon cupcakes, substitute 1 teaspoon of lemon extract and 2 tablespoons of fresh lemon zest for vanilla extract.