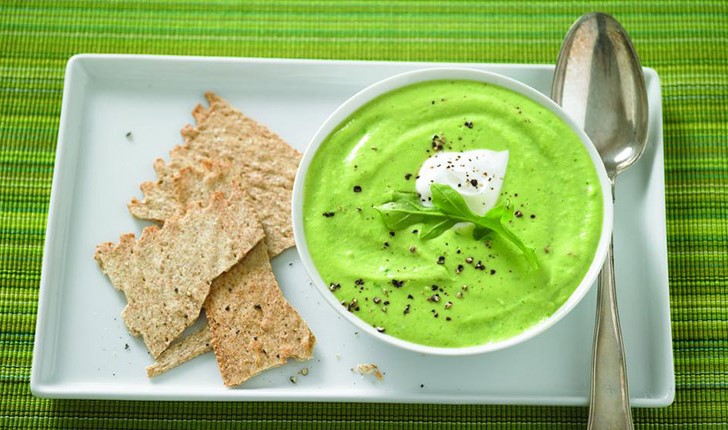 Prep Time:

5 min

Cook Time:

15 min

Total Time:

20 min

Makes:

6 servings
Creamy Edamame Arugula Soup
Ingredients
1 teaspoon Soybean oil (often labeled "vegetable oil")

1 Small onion, diced

3 cups Frozen edamame (shelled)

2 cups Low sodium vegetable or chicken broth

1 cup Plain soymilk

1 cup Baby arugula leaves, packed

1⁄2 teaspoon Salt (or to taste)

1⁄4 teaspoon Ground black pepper

Greek-style yogurt (optional)
Instructions for Creamy Edamame Arugula Soup
Heat soybean oil in large saucepan over medium heat. Add onions and cook for 2 to 3 minutes, until soft. Add edamame and broth; simmer for 5 to 6 minutes, until just tender.
Place mixture in food processor; add soymilk and arugula. Process 1 minute, or until smooth.
Return to saucepan. Heat over medium heat, stirring occasionally, until soup begins to simmer. Ladle into bowls; top with yogurt, if desired.
Thin soup with additional vegetable broth as needed.