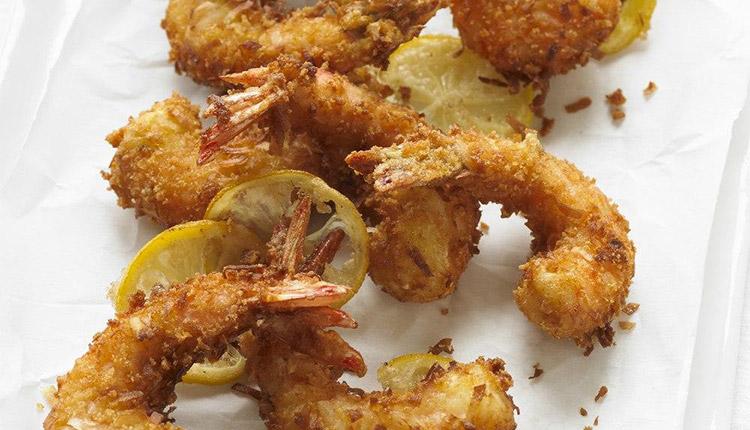 Prep Time:

10 min

Cook Time:

20 min

Total Time:

30 min

Makes:

16 Sevings
Crispy Coconut Shrimp
Ingredients
6 cupsSoybean oil (for deep frying)

1⁄3 cupAll-purpose flour

1⁄2 teaspoonSalt

1⁄2 teaspoon Pepper

2 Eggs, beaten

1 cup Shredded sweetened coconut

3⁄4 cups Panko bread crumbs

1 pound Shrimp, peeled and deveined with tails attached (16 shrimp per lb.)
Instructions for Crispy Coconut Shrimp
Preheat soybean oil to 350° F in heavy frying pan or small deep fryer.

Combine flour, salt and pepper in shallow bowl. Place eggs in second shallow bowl. Combine coconut and panko in the third shallow bowl.

Roll shrimp in flour, dip in eggs, and then roll in coconut mixture, pressing gently to coat. Place on sheet pan.

Fry in batches, 4 to 6 minutes per batch, turning as needed until golden brown. Drain on paper towels.
Notes:
For extra crispy shrimp dip twice in egg and coconut mixture before frying.