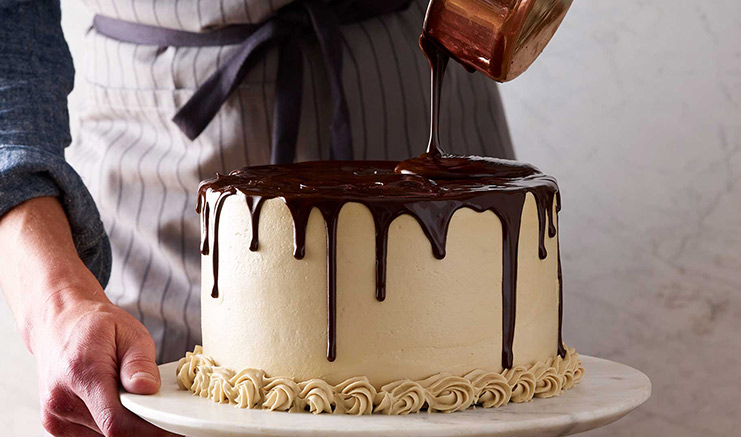 Prep Time:

1 hour

Cook Time:

1 hour and 45 minutes

Total Time:

2 hours and 45 minutes

Makes:

1 three-layer 8 inch cake
Dark Chocolate Cake
Ingredients
High oleic soybean shortening: 225g

Butter: 225g

Powdered sugar: 500g

Coffee extract: 1 Tablespoon

Baking soda: 1 teaspoon

Baking powder: 2 teaspoons

Salt: ½ teaspoon

Cocoa powder: 90g

Hot water: 1 ¼ cup

Sour cream: 150g

Butter: 170g

High oleic soybean shortening: 103g

Sugar: 300g

Dark brown sugar: 220g

>Eggs: 3

Vanilla: 1 ½ teaspoon

Dark chocolate (72%): 130g

Butter: 80g

Corn syrup: ½ Tablespoon
Instructions for Dark Chocolate Cake
Coffee Frosting
Sift powdered sugar in a medium bowl and set aside.
In a mixer with paddle attachment, mix the butter and high oleic soybean shortening together until light and fluffy.
Gradually add the sugar to the high oleic soybean shortening mixture in parts, stopping mixer during each addition. Mix on low to incorporate.
Add the coffee extract and mix until fully incorporated. Frosting should be light, fluffy and be pale tan in color.

Dark Chocolate Cake
In a medium bowl, whisk together the AP flour, baking soda, baking powder and salt. Set aside.
In another medium bowl, whisk together cocoa powder and hot water. Add sour cream and mix well. Set aside to cool to room temperature.
In a mixer with paddle attachment, mix the butter, high oleic soybean shortening and both sugars together until light and fluffy. Add the eggs, one at a time, along with the vanilla until fully incorporated. Scrape the sides of bowl as needed.
Add the dry mixture alternating with the cocoa mixture to the butter sugar mixture, beginning and ending with the dry mixture. Try not to overmix.
Scoop/distribute the mixture evenly between three 8" round cake pans that have been greased and the bottom has been lined with parchment.
Bake at 325°F for 35-40 minutes. Rotate halfway through. Check with a cake tester. When inserted in the center, it should come out clean.
Let cool for 20 minutes before removing from pan. Let cool completely before icing.

Chocolate Glaze + Cake Assembly
Procedure
Melt all ingredients in a double boiler over low heat. Using a rubber spatula, stir continuously until all solids have melted and mixture is glossy and fully incorporated.
Let cool to room temperature before pouring.

Assembly
Place a cake board on your turntable.
Place one cooled cake layer, dome side up, on turntable. Trim dome to create a flat surface.
Using an offset spatula, evenly spread about 1 – 1 ¼ cups of frosting on top, working the frosting almost to the edge.
Add the next layer, and repeat steps two and three.
Add the top layer and spread a very thin layer of frosting over the sides and top of the cake (crumb coat) and place the cake in the refrigerator to firm up, about 15-20 minutes.
Remove from refrigerator. Frost sides and top with frosting, reserving about 1 cup for additional décor.
Smooth the sides and top of your cake using a plain edge cake scraper.
Pour the chocolate glaze onto the top center of your cake. Working quickly, spread the glaze outward (by turning the turntable) until the glaze starts to drip down the edge of the cake. Then, swirl the glazed top using the offset spatula, working from the outer rim of the cake to the center.
Put the remaining frosting in a piping bag with your preferred tip and decorate to your liking.
Once finished, transfer the cake to your refrigerator to firm up, about 20 minutes.