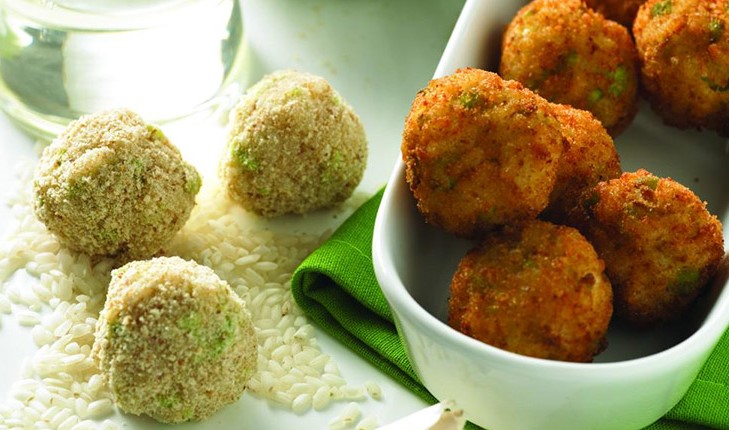 Prep Time:

20 min

Cook Time:

2 hours

Total Time:

2 hours, 20 min

Makes:

40 servings
Edamame Arancini Bites
Ingredients
2 tablespoons Soybean oil

2⁄3 cups Diced onion

2 tablespoons Minced garlic

1 1⁄2 cup Arborio rice

1 cup White wine

4 cups Water

1 cup Frozen edamame (shelled), cooked according to package directions, chopped

1 cup Parmigiano-Reggiano cheese, shredded

1 teaspoon Salt

4 cups Soybean oil (for deep frying)

1 1⁄2 cup Bread crumbs

2 cups Marinara sauce (optional)
Instructions for Edamame Arancini Bites
Heat soybean oil in large saucepan over medium-high heat; add onion and garlic and cook, stirring occasionally, for 4 minutes until tender. Add rice, stirring frequently, for 4 minutes until lightly toasted.
Add wine to rice; reduce heat to medium. Add water one cup at a time, stirring frequently until water is completely absorbed, approximately 20 to 25 minutes. Rice should be tender but firm and mixture should be creamy. Remove from heat; stir in cheese, chopped edamame and salt.
Spread rice mixture onto foil-lined baking sheet. Place in refrigerator for 1 hour until well chilled.
Preheat 4 cups soybean oil to 350°F in heavy frying pan or small deep fryer. Line baking sheet with paper towels.
Place bread crumbs in shallow bowl. Portion chilled rice, using 2 tablespoon measure or 1 ounce scoop. Shape into balls; roll in bread crumbs, coating thoroughly.
Carefully place 8 rice balls into hot oil. Fry approximately 3 minutes, turning once, until golden brown. Remove from oil; place on paper towels to drain. Repeat with remaining rice balls. Serve with marinara sauce, if desired.