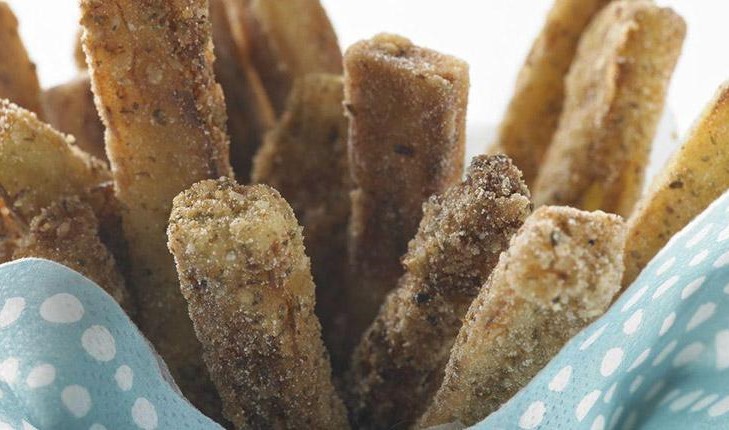 Prep Time:

10 min

Cook Time:

2 hours, 30 min

Total Time:

2 hours, 40 min

Makes:

6 servings
Eggplant Fries with Zesty Lemon Yogurt
Ingredients
1 Large eggplant (about 1 lb.; use firm, dense eggplant for best results)

4 cups Soybean oil (for deep frying)

1 cup Rice flour

2 tablespoons Grated lemon zest

1 1⁄2 tablespoon Za'atar

(optional)

1 tablespoon Garlic powder (will stick to the eggplant better than fresh garlic)

1⁄2 teaspoon Sea salt

1 cup Plain Greek-style low-fat yogurt

2 teaspoons Grated lemon zest

1 dash Sea salt and ground black pepper
Instructions for Eggplant Fries with Zesty Lemon Yogurt
Cut ends and sides off of eggplant to form an even block, then cut into 1/4-inch strips. Place eggplant fries in large bowl; cover with 2 cups ice and enough water to cover. Cover and chill for 2 hours or overnight until thoroughly chilled.
Preheat soybean oil to 350°F in heavy frying pan or small deep fryer. Line baking sheet with paper towels.
Combine rice flour, lemon zest, za'atar, garlic powder and salt in shallow bowl. Drain eggplant fries. Working in batches, coat eggplant fries in rice flour mixture.
Carefully place half of eggplant fries into hot soybean oil. Fry until golden brown, turning occasionally, approximately 3 to 4 minutes. Remove; drain on paper towels. Repeat with remaining fries. Sprinkle with additional salt.
To prepare Zesty Lemon Yogurt, combine yogurt, lemon zest and salt and pepper to taste. Serve immediately with eggplant fries.