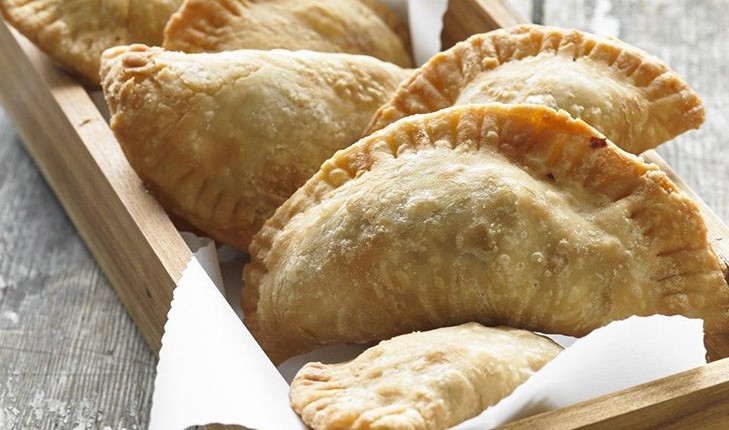 Prep Time:

20 min

Cook Time:

25 min

Total Time:

45 min

Makes:

16 servings
Fried Empanadas Recipe
Ingredients
2 cups All-purpose flour

1⁄2 teaspoon Salt

1⁄2 cup Soybean-based shortening

1⁄2 cup Cold water, or as needed

2 tablespoons Soybean oil

1⁄4 cup Chopped onion

2 cloves Garlic, minced

1 cup Cooked, boneless, skinless chicken breast (chopped)

1⁄2 teaspoon Paprika

1⁄2 teaspoon Cumin

1⁄4 teaspoon Ground black pepper

1 tablespoon Cilantro, chopped

4 cups Soybean oil (for frying)
Instructions for Fried Empanadas Recipe
Place flour and salt in food processor; process for 5 seconds. Add shortening; process until crumbly. Gradually add water, processing until dough almost gathers into a ball. Transfer to a floured surface; knead lightly. Cover with plastic wrap; let stand for 30 minutes.

Heat soybean oil over medium high heat in medium skillet. Cook onion and garlic until soft. Stir in, chicken, paprika, cumin and black pepper, cook for about 3 minutes. Stir in cilantro, mixing well. Remove from heat. Let cool.

Form dough into 9-inch log; cut into 12 portions about 3/4-inch each. On floured surface, roll each piece into a circle about 1/4-inch thick. Repeat to form 16 circles.

Place about 1 heaping teaspoon of the chicken filling in the center of each dough round. Fold half of the circle over to form a half-moon; press the edges together firmly. Repeat with remaining dough and filling.

Preheat soybean oil to 365° F in heavy frying pan. Place one or two pies into fryer at a time. Cook for around 5 minutes, turning once to brown on both sides. Drain on paper towels.
Notes:
Unbaked empanadas may be frozen. Freeze on baking sheet lined with wax paper until hard. Store in freezer containers. Bake frozen; add additional 5 minutes to bake time.