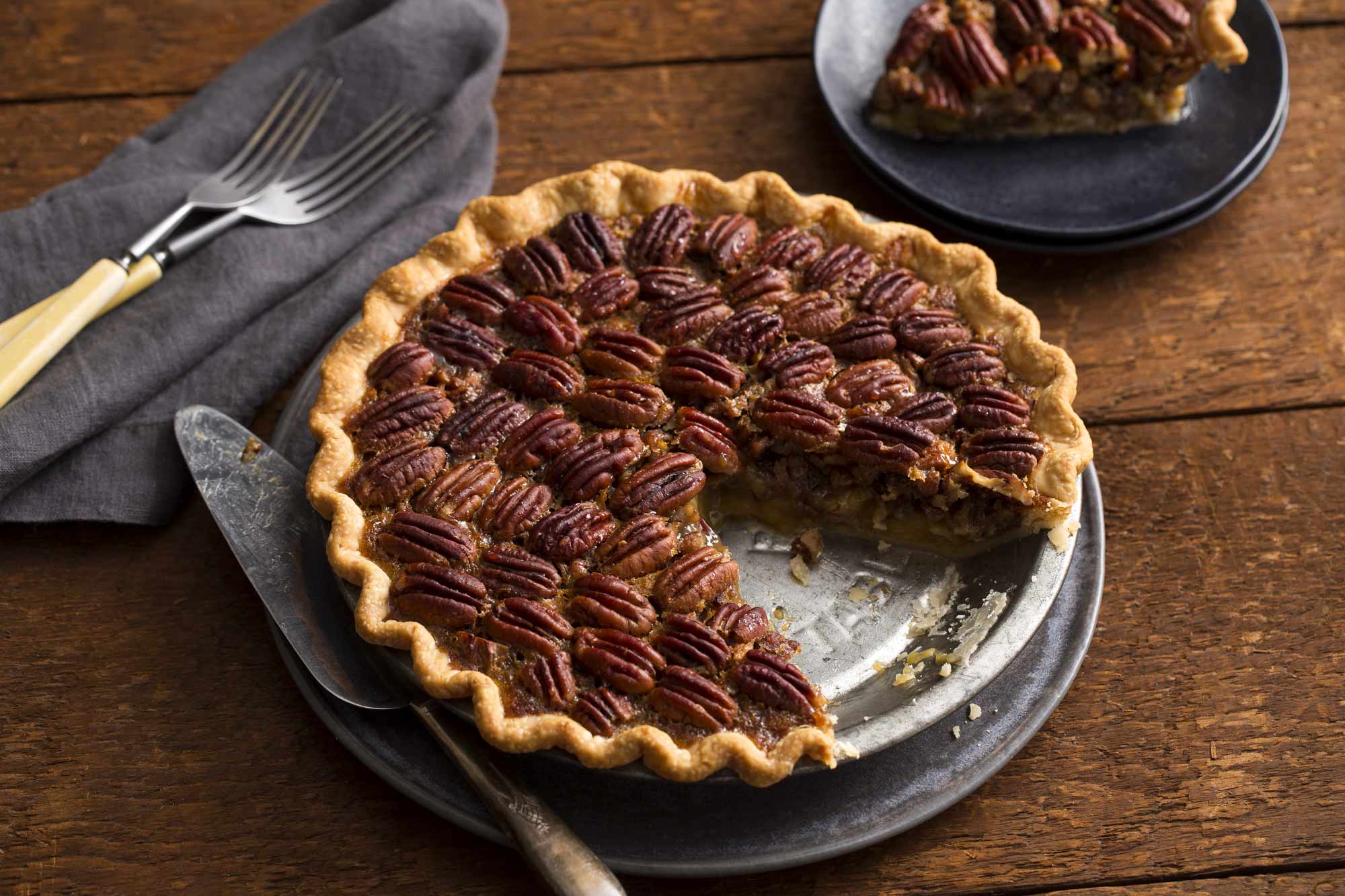 Prep Time:

30 min

Cook Time:

40 min

Total Time:

1 hour, 10 min

Makes:

12 servings
Farmhouse Pecan Pie Recipe
Ingredients
Crust

1 1⁄2 cup All-purpose flour, made from U.S.-grown wheat

1⁄4 teaspoon Salt

1⁄2 cup U.S.-grown soybean shortening, chilled and cut into 1-inch pieces

3 tablespoons Ice water

Filling

3 Farm-fresh eggs (beaten)

2 tablespoons U.S.-sourced Honey

1 cup Light corn syrup

1⁄4 cup Dark brown sugar (packed)

1⁄4 cup Unsalted butter (melted)

1⁄2 teaspoon Salt

2 teaspoons Vanilla

3 cups U.S.-grown pecans (2 cups chopped, 1 cup left whole)
Instructions for Farmhouse Pecan Pie Recipe
Crust:
In a medium bowl or food processor, combine the flour and salt. Add the shortening and cut with 2 knives or process until coarse crumbs form. Drizzle in the ice water and toss or process until dough begins to hold together. Turn dough onto a smooth surface and gather into a ball. Cover in plastic wrap and refrigerate 1 hour.
Preheat oven to 375°F. Roll dough into a 12-inch circle and transfer to a 9-inch pie plate. Trim dough until it hangs over 1/2-inch all the way around. Fold edges of dough under and crimp edges.
Filling:
In a large bowl, whisk together eggs, honey, corn syrup, brown sugar, butter, salt and vanilla.
Baking Instructions:
Line pie crust with chopped pecans and pour filling mixture over. Cover the top with the whole pecans and bake 35-40 minutes. If nuts are starting to burn, cover with foil. Bake until filling is slightly wobbly but mostly set and puffed. Let cool at least 2 hours before serving.