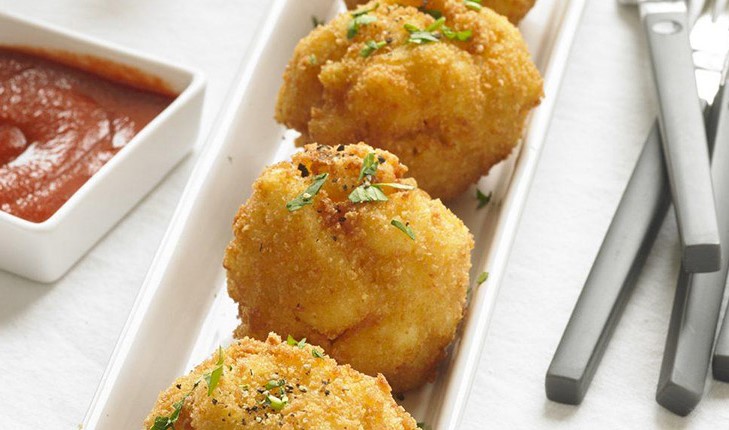 Prep Time:

30 min

Cook Time:

1 hour, 30 min

Total Time:

2 hours

Makes:

30 servings
Fried Mac and Cheese Bites
Ingredients
4 cups Elbow macaroni, cooked according to package directions (12 oz.)

2 tablespoons Butter

2 tablespoons All-purpose flour

1 1⁄2 cup Milk, divided

1⁄2 teaspoon Salt

1⁄4 teaspoon Ground black pepper

1⁄8 teaspoon Cayenne pepper

2 1⁄2 cups Shredded cheddar cheese, divided

1 cup Shredded mozzarella

2 Eggs

8 ounces Panko bread crumbs (1 box)

6 cups Soybean oil (for deep frying)
Instructions for Fried Mac and Cheese Bites
Place cooked macaroni in large bowl.

Melt butter in medium saucepan over medium heat. Whisk in flour, cooking until bubbly. Add 1 1/4 cups milk in a thin stream, stirring constantly. Stir in salt, black pepper and cayenne. Simmer for two minutes; remove from heat. Stir in 1 1/2 cups cheddar cheese.

Fold cheese mixture into macaroni. Stir in mozzarella and remaining 1 cup cheddar cheese. Spread onto rimmed sheet pan. Cover and place in freezer for 1 hour until firm but not frozen.

Mix eggs with remaining 1/4 cup milk in shallow bowl. Place panko in separate shallow bowl.

Preheat soybean oil to 360° F in heavy frying pan or small deep fryer.

Scoop 1/4 cup mixture into 2- to 3-inch balls, compressing slightly. Dip into egg mixture, then roll in panko. Repeat to form 30 balls.

Fry in small batches, 3 to 4 minutes turning as needed, until light golden brown. Drain on paper towels.