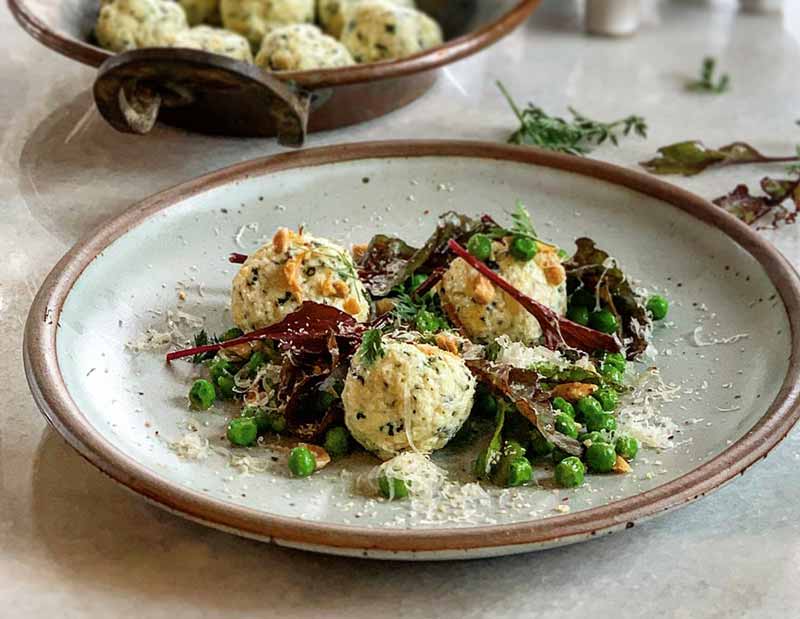 Prep Time:

5 min

Cook Time:

10 min

Total Time:

15 min

Makes:

2 servings
Gnudi Gnocchi
Ingredients
½ cup thick ricotta cheese

½ cup parmesan cheese, grated (plus extra to top the final plate)

1 egg

Nutmeg, about 8 grates

½ cup flour

½ of a lemon, zest and juice

3-4 stems rainbow chard

¼ cup hazelnuts

2 cloves garlic, minced

1 anchovy filet, minced (plus a little oil)

Pinch of red pepper flakes

1 cup peas
Instructions for Gnudi Gnocchi
Place a pot of salted water over high heat and bring to a boil.
Grab a food processor and combine the ricotta, parmesan cheese, egg, nutmeg, flour, half of the lemon zest and juice, salt and pepper. Blend until combined.
Meanwhile, toss the chard into the boiling water and blanch for 1-2 minutes to soften. Remove from the water and separate the leaves from the stems. Rough chop the leaves and finely chop the stems.
Grab the chopped chard leaves, add them to the cheese mixture, and blend a bit more to combine. Form the gnudis from this mixture, about ping pong ball size. Working a few at a time, poach the gnudis in your pot of boiling water (same one we used for chard). Poach covered for about 10 minutes.
While your gnudis are poaching, let's make the sauce. Place a small pan over medium high heat. Toss in your hazelnuts and quickly toast until fragrant. Remove from the pan, crush them with the bottom of your pan, and set aside.
Get the pan back on the heat and drizzle with a bit of soybean oil. Add your chard stems and sauté for 3-4 minutes. Add your garlic and anchovy, adding a quick drizzle of anchovy oil as well. Toss in the red pepper flakes, remaining lemon zest and juice, peas, and hazelnuts. To thin out the sauce, scoop out about ¼ cup cooking poaching liquid from gnudi and add it to your pan of sauce. Salt and pepper to taste.
Once your gnudi has poached, remove from the water and drain on a paper towel. Place your peas with sauce on a plate and top with gnudis. Hit it with a heavy grate of parmesan cheese. Enjoy!