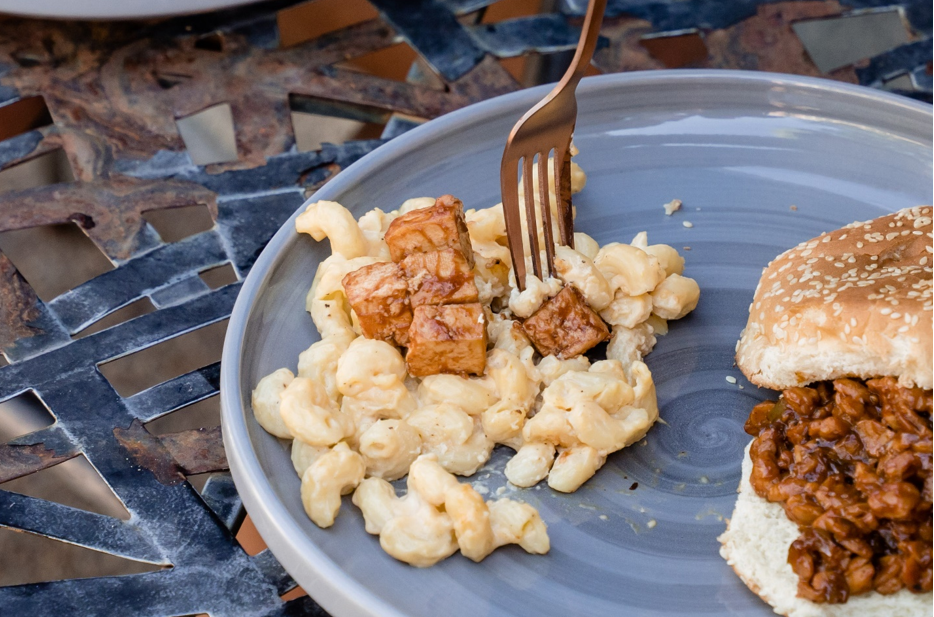 Prep Time:

Cook Time:

Total Time:

Makes:
Mac & Cheese
Ingredients
1 pound macaroni

1 pound silken tofu

1/3 cup Greek yogurt

2/3-1 cup soymilk

8 ounces sharp cheddar cheese

2 tablespoons unsalted butter

Salt and pepper

BBQ Tofu:

1-14 oz package extra-firm tofu

½ cup BBQ sauce – divided into ¼ cup
Instructions for Mac & Cheese
Macaroni Instructions
Add silken tofu to a food processor, and pulse until it's in a grainy texture.


Pour in yogurt, 2/3 cup of soymilk, and cheddar cheese and process until smooth. Some graininess is acceptable, but if the mixture looks dry, add a little more milk. Cook macaroni according to package, and drain.


Add butter to pot with macaroni and stir over low heat until butter is melted.


Stir in all of the cheese sauce and stir until heated and melted, about 5 minutes.


Season macaroni with salt and pepper.
BBQ Tofu Instructions:
Cut the tofu into 1-inch cubes.


Transfer tofu to a bowl, and toss with ¼ cup of the barbecue sauce.


Place tofu on a parchment-lined baking sheet. Bake the tofu at *** for 20–30 minutes, or until the edges are browned, stirring halfway through cooking time. Toss tofu with the remaining barbecue sauce and serve over macaroni.