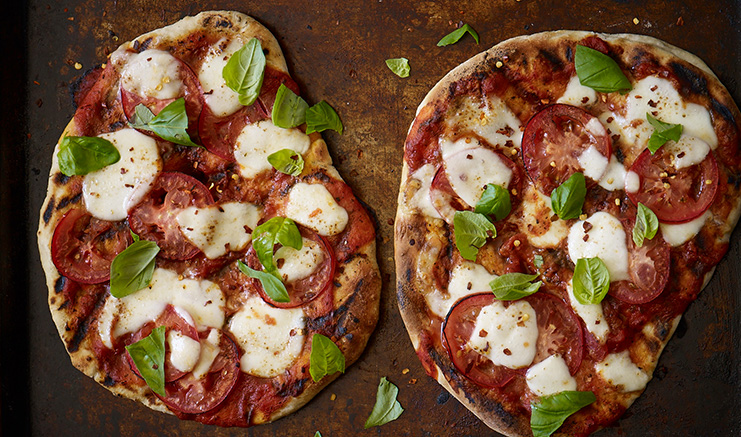 Prep Time:

20 minutes

Cook Time:

15 minutes

Total Time:

1 hour

Makes:

8 servings
Margherita Pizza Recipe
Ingredients
2 1/2 cups All-purpose flour, divided

1 Package dry yeast (.75 oz.)

3/4 teaspoon Salt

1 cup Warm water (120 to 130°F)

4 tablespoons U.S. grown soybean oil, divided

1/2 cup Store-bought marinara or pizza sauce

4 medium Roma tomatoes, thinly sliced

6 ounces Fresh mozzarella, sliced

6 Fresh basil leaves, torn into pieces
Instructions for Margherita Pizza Recipe
Combine 2 cups flour, yeast and salt in a large bowl. Stir in warm water and 2 tablespoons soybean oil. Add additional water, as needed, to from a soft dough. Knead 4 to 6 minutes on lightly floured surface until smooth and elastic. Cover; let rest on floured surface 10 minutes.
Preheat grill to medium-high.
Divide dough into 4 portions. Pat or roll dough on a well-floured counter to about 8-inch circle. Brush both sides of each crust with remaining soybean oil.
Place crusts on grill and cook for 3 to 4 minutes until crust bottoms are lightly browned. Carefully flip crusts over using large spatula. Top each crust with marinara or pizza sauce, tomatoes, cheese and basil, diving ingredients evenly. Cook an additional 3 to 4 minutes until bottom of crust is browned and cheese is melted. Remove from grill and serve immediately.
Oven baking instructions: assemble pizzas, place on baking sheets; bake for 10 to 12 minutes in 450°F degree oven.