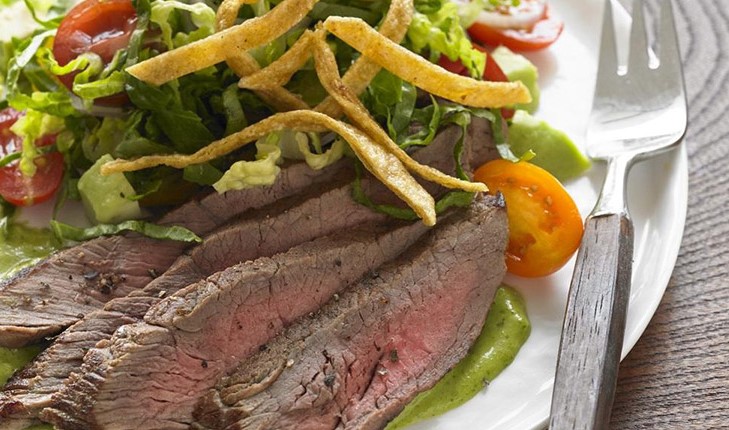 Prep Time:

20 min

Cook Time:

10 min

Total Time:

30 min

Makes:

6 servings
Mexican Beef Chopped Salad
Ingredients
1 cup Cilantro leaves

1⁄3 cup Rice vinegar

1⁄3 cup Soybean oil

2 cloves Garlic

3 tablespoons Fresh lime juice

1 pound Flank steak, trimmed

6 Romaine lettuce hearts, finely chopped

1⁄2 cup Fresh cilantro leaves, chopped

2 cups Cherry tomatoes, halved

2 Avocados, peeled, pitted and diced
Instructions for Mexican Beef Chopped Salad
Puree cilantro, vinegar, soybean oil, garlic and lime juice in blender until smooth. Reserve 1/3 cup dressing to small bowl; set aside.

Place remaining marinade in large bowl with steak; marinate for at least 1 hour at room temperature or refrigerate for 3 hours.

Combine the romaine hearts, cilantro leaves, tomatoes and avocado on large platter.

Preheat grill medium high. Remove steak from the marinade, place on grill. Cook, flipping once, about 3 minutes per side for medium rare (135° F) or until desired level of doneness. Let steak rest for 10 minutes; slice into thin strips.

Drizzle salad with prepared dressing, tossing lightly. Top with sliced beef. Season with salt and pepper to taste.