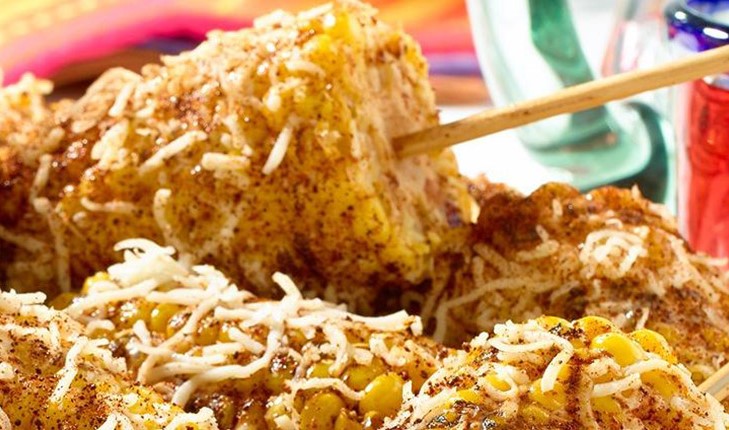 Prep Time:

10 min

Cook Time:

15 min

Total Time:

25 min

Makes:

4 servings
Mexican Corn on the Cob - Elote
Ingredients
1 GOYA® Corn on the Cob (1 bag with 8 mini ears, thawed, or 4 fresh ears of corn, husked and halved)

1 teaspoon GOYA® Vegetable Oil

1 cup GOYA® Queso Blanco, crumbled (can substitute with crumbled cotija cheese or finely shredded fresh mozzarella cheese)

GOYA® Adobo All-Purpose Seasoning

1⁄4 cup GOYA® Mayonnaise with Lime

1 teaspoon GOYA® Chili Powder

4 8" skewers (If using wooden skewers, soak in water 30 minutes prior to grilling)
Instructions for Mexican Corn on the Cob - Elote
Prepare grill to medium-high heat; grease with oil. Stick each corn cob on skewer. Grill corn until tender and charred on all sides, about 7 minutes.
Place crumbled cheese on medium, flat plate. Working with one corn cob at a time, sprinkle cob with adobo, spread with mayonnaise, roll in cheese and sprinkle chili powder. Place corn on serving plate; repeat with remaining cobs and ingredients.
Notes:
Mexican Corn on the Cob, or Elote, is a grilled corn dish that is served at roadside stands and street fairs in Oaxaca, Mexico. This loaded corn on the cob is made by seasoning grilled corn with mayonnaise, cheese, chili powder and a squeeze of lime. Here, this classic recipe is transformed into a simple side dish using a handful of GOYA® ingredients. GOYA® Corn on the Cob turns smoky and flavorful when grilled, and is then smothered with GOYA® Mayonnaise with Lime and GOYA® Adobo All-Purpose Seasoning to make a memorable side dish more convenient than ever!