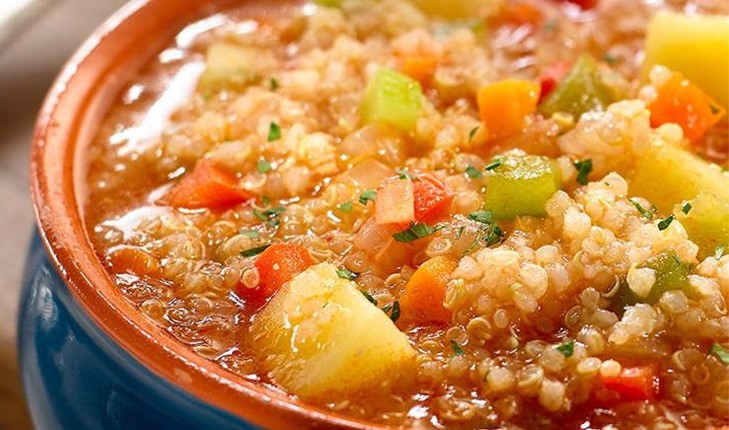 Prep Time:

10 min

Cook Time:

30 min

Total Time:

40 min

Makes:

4 servings
Peruvian Quinoa Soup
Ingredients
1 tablespoon GOYA® Vegetable Oil

1⁄2 Onion, finely chopped (about 1 cup)

1 Green bell pepper, finely chopped (about 1 cup)

3⁄4 cups Celery, finely chopped

1⁄2 cup Medium carrot, finely chopped

1 can GOYA® Tomato Sauce (8 oz.)

2 teaspoons GOYA® Minced Garlic

4 packages GOYA® Salad and Vegetable Seasoning (mixed with 8 cups water)

2 Medium waxy potatoes (peeled and cut into ½" cubes)

1 cup GOYA® Quinoa, rinsed

1 tablespoon Fresh parsley, chopped

tst GOYA® Adobo All-Purpose Seasoning with Pepper
Instructions for Peruvian Quinoa Soup
Heat oil in 6-qt. pot over medium-high heat. Add onions, peppers, celery and carrots. Cook, stirring occasionally, until tender, about 10 minutes. Add tomato sauce and garlic to pot; cook until fragrant, about 30 seconds more.
Pour water mixture into pot; bring to boil. Stir in potatoes and quinoa. Lower heat to medium low. Simmer, stirring occasionally, until potatoes and quinoa are tender, about 15 minutes.
Stir parsley into soup. Season soup with adobo; divide evenly among serving bowls.
Notes:
This hearty soup is loaded with vegetables and GOYA® Quinoa – a seed from the Andes that boasts a high protein content and a wholesome, comforting taste. In Peru, this soup is enjoyed any time of day (even breakfast) and serves as a delicious antidote for the freezing cold Andean weather.