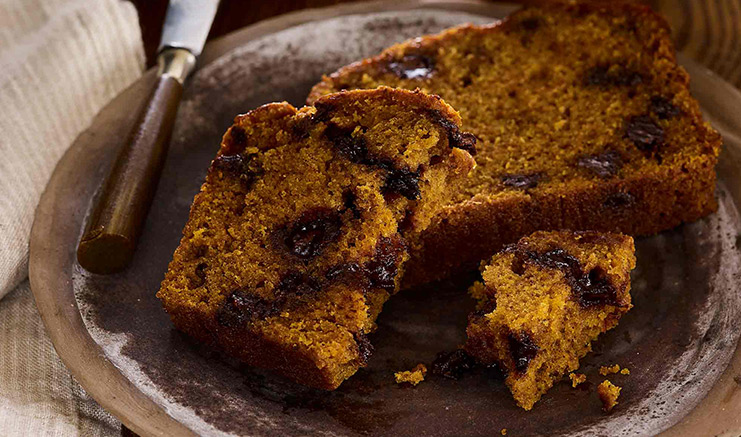 Prep Time:

10 minutes

Cook Time:

60 minutes

Total Time:

70 minutes

Makes:

2 loaves
Pumpkin Chocolate Chip Loaf
Ingredients
AP flour : 480g

Cinnamon: 2 teaspoons

Nutmeg: ½ teaspoon

Ground allspice: 2g

Ground ginger: 2g

Baking soda: 2 teaspoons

Salt: 1 ½ teaspoons

Pumpkin puree: 444g

Soybean oil (commonly labelled as vegetable oil): 1 cup

Sugar: 635g

Eggs: 4

Vanilla: 1 teaspoon

Water: 2/3 cup

Chocolate chips: 260g
Instructions for Pumpkin Chocolate Chip Loaf
In a medium bowl, whisk flour, cinnamon, nutmeg, allspice, ginger, baking soda and salt. Add the chocolate chips and set aside.
In a mixer with paddle attachment, mix the puree, soybean oil and sugar together until fully incorporated. Add the eggs, one at a time, along with the vanilla until fully incorporated. Add the water and mix well.
Slowly add the dry to the wet. Do not overmix. There should be trace amounts of flour.
Scoop/distribute the mixture evenly into two greased loaf pans.
Bake at 325°F for 50-60 minutes until a cake tester inserted in the center comes out clean.
Remove and let cool before removing from pan. Let cool completely before slicing or wrapping.