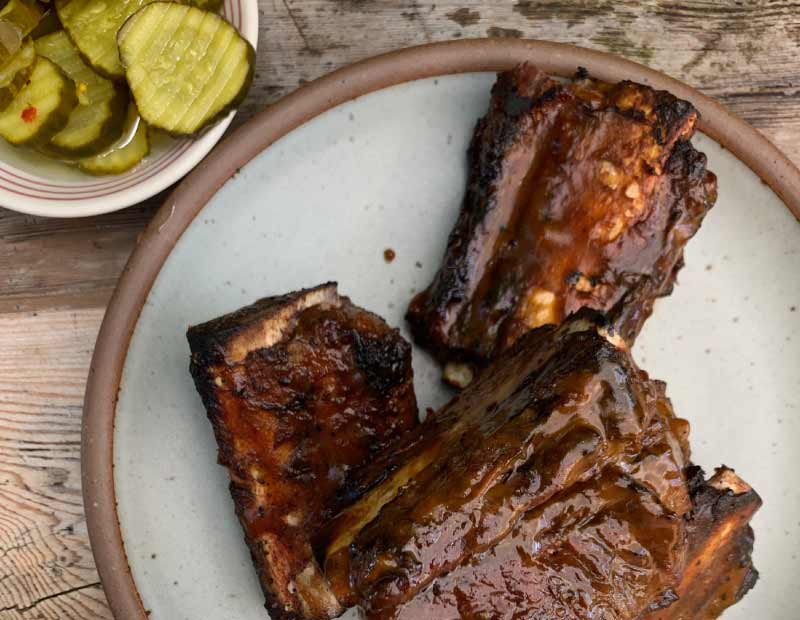 Prep Time:

5 minutes

Cook Time:

6 hours

Total Time:

6 hours, 5 minutes

Makes:

2-4 servings
Smokin' Short Ribs
Ingredients
• 12 bone-in short ribs (about 11 ½ pounds)

• Salt

• Pepper

• Wood chips for smoking, we used hickory, ½ beer can full

• 2 apples

• ¼ cup soy sauce

• 2 tablespoons sriracha (more or less depending how hot you like it)

• 1 cup water

• ¼ cup rice vinegar

• Ginger (a few grates fresh or 1 teaspoon dried)

• 2 tablespoons brown sugar

• 2 corn cobs, in husk (optional)

• 3 jalapenos, pierce before grilling (optional)
Instructions for Smokin' Short Ribs
Get your grill heating up, you'll want to maintain a low heat, around 225-250 degrees. Season your ribs with salt and pepper on both sides. Place some wood chips in a halved aluminum can and cover with water. Toss the ribs on the grill, fat side up. Place the can of chips inside to start smokin'. Let your ribs grill for about 3 hours before we get to basting.
Meanwhile, let's make the sauce. Place a small pan over medium heat. Finely dice up your apples and toss them in the pan. Add the soy sauce, sriracha, water, rice vinegar, ginger, and brown sugar. Slowly cook the sauce, until sticky. Season with salt and pepper and set aside until it's time to baste.
After ribs have been on the grill for 3 hours, pull them off. Lay them in foil and baste with half of your sauce. Wrap them up and cook for 3 more hours.
If you're adding any other grilled sides, do so when your ribs have about an hour left to cook. We like putting whole, in-husk corn cobs or whole jalapenos on the grill over indirect heat (on top rack if you have one).
After your ribs have cooked for a total of 6 hours, pull them off the grill. Open the foil and baste with remaining sauce. Place under a broiler for 3-4 minutes until sauce firms up. Move them to a cutting board and carefully cut them apart.
Build your barbeque platter! Line a baking sheet with brown paper. Pile on your ribs. Add any additional grilled items or condiments to the tray, like pickled red onion, Texas toast, bread & butter pickles, etc.