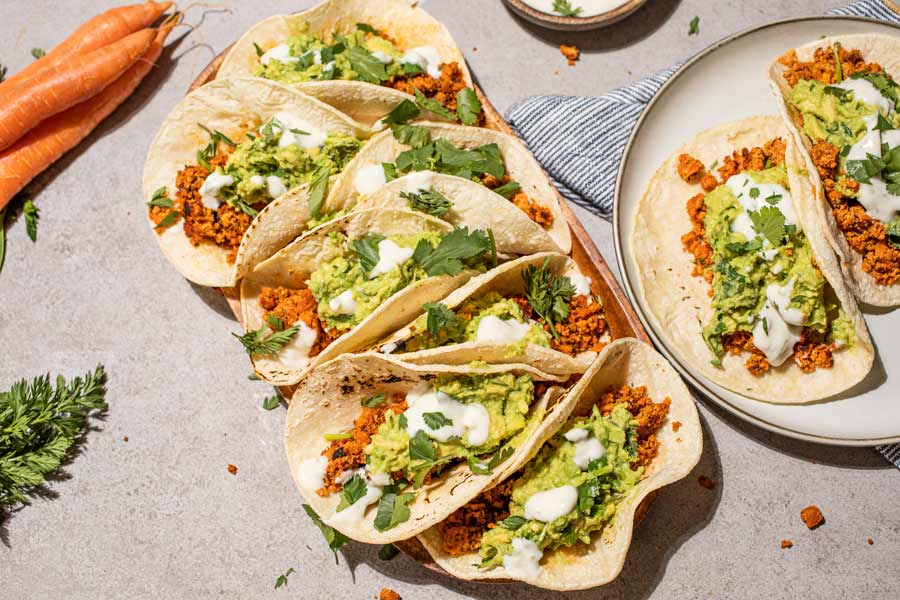 Prep Time:

5 min

Cook Time:

15 min

Total Time:

20 min

Makes:

4
Soy Chorizo Tacos
Ingredients
3 Tablespoons soybean oil (commonly labeled as vegetable oil)

8 Ounces roughly chopped floppy carrots, about 2-3 large carrots, carrot tops reserved

1 Pound extra firm tofu, drained, patted dried and broken into large chunks

4 Ounces double concentrated tomato paste

1 Chipotle Pepper in adobo, finely chopped

2 Teaspoons adobo sauce

½ Cup plain soy milk-based yogurt

1 Avocado, pitted and skin removed

1 Tablespoon chopped Cilantro stems

8 stale corn tortillas

Cilantro leaves, to garnish

Kosher salt

2 Tablespoons soy sauce

Zest and juice of 1 lime

Various Spices Needed (that you probably already have in your kitchen!)

1 Tablespoon Ground Cumin

1 Tablespoon Smoked Paprika

1 Teaspoon Ground Coriander

1 Teaspoon Mexican Oregano

1 Teaspoon Garlic Powder

1 Teaspoon Used Coffee Grounds

¼ Teaspoon Ground Cinnamon
Instructions for Soy Chorizo Tacos
Heat 3 tablespoons of soybean oil in a large nonstick pan over medium-high heat. Using soybean oil will ensure that we maintain a neutral flavor profile, but also get a nice char on our soy chorizo because of soybean oil's high smoke point.
To the base of a food processor, add in the chopped carrots and pulse until fine. Add in the crumbled tofu and pulse until the mixture is the size of crumbled meat.
To the heated pan, add in the carrot-tofu mixture and allow to cook for 5 minutes untouched. Stir and continue to cook until the mixture has browned.
Meanwhile in a small bowl, mix together the cumin, smoked paprika, coriander, oregano, garlic powder, coffee grounds, granulated onion, cinnamon and 1 teaspoon of Kosher salt.
Sprinkle the spices over the browned tofu mixture and stir. Add in the tomato paste, chopped chipotle pepper and chipotle sauce. Cook for 2 minutes allowing it to caramelize.
Finish by adding in the soy sauce, for a nice umami flavor, and stir to combine.
While the soy chorizo finishes cooking, in a small bowl, mix together the yogurt with the juice and zest from half a lime. Season with salt to taste.
Place the avocado on a cutting board and squeeze the juice from the remaining lime half over the top. Using a fork, mash the avocado along with a tablespoon of cilantro stems and a tablespoon of chopped carrot tops. Season with salt.
Heat a cast iron or non-stick skillet over medium high heat. Place a tortilla in the pan to warm for 10 seconds and then flip and warm for another 10 seconds. Remove to a plate and cover with a tea towel. Repeat until all tortillas have been heated through.
When the soy chorizo is cooked through, build the tacos by adding a spoonful of chorizo to the middle of a warmed tortilla. Top with a drizzle of the lime soymilk yogurt, some smashed avocado and cilantro leaves.