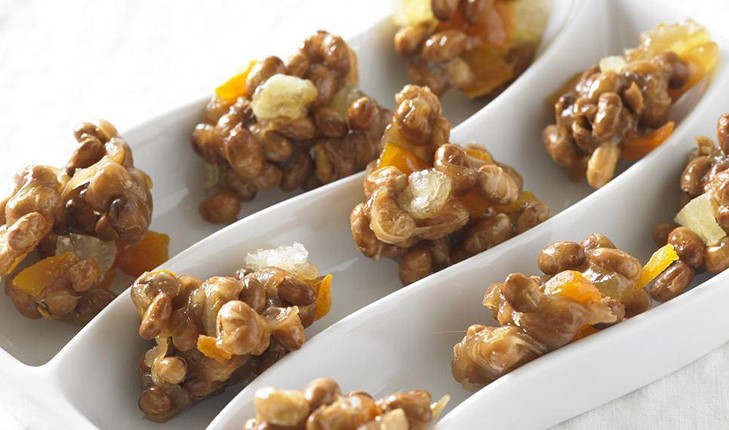 Prep Time:

10 min

Cook Time:

5 min

Total Time:

15 min

Makes:

16 servings
Soy Nutty-Fruity Clusters
Ingredients
1 tablespoon Soybean oil

1 cup Soy nuts, roasted, salted

1 cup Assorted dried fruit, chopped

1⁄4 cup Brown rice syrup

1⁄4 cup Light brown sugar, packed

1⁄4 teaspoon Salt
Instructions for Soy Nutty-Fruity Clusters
Foil-line 11 x 17-inch pan; grease with soybean oil. Combine Soynuts and dried fruit. Spread onto prepared pan in single layer.
Stir brown rice syrup, brown sugar and salt in small saucepan until blended. Bring to boil over medium high heat, stirring constantly. Boil until candy thermometer reaches 270°F, about 3 to 4 minutes. Immediately pour over Soynuts and fruit. Quickly and carefully stir until coated.
While hot, separate into clusters. Cool completely.