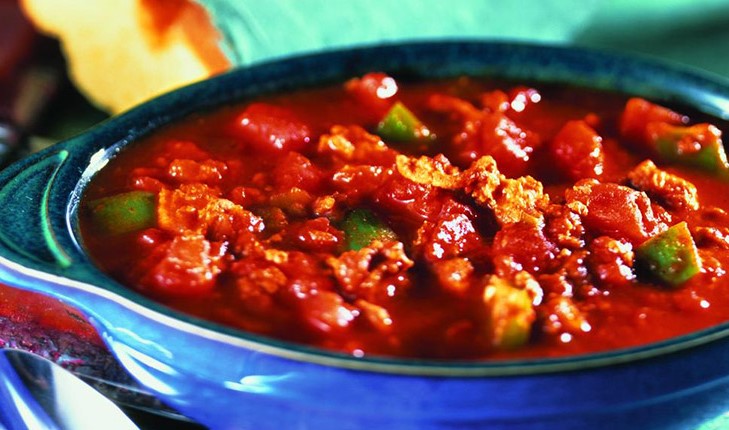 Prep Time:

15 min

Cook Time:

1 hour

Total Time:

1 hour, 15 min

Makes:

24 servings
Soy Turkey Chili Recipe
Ingredients
3 cups Boiling water

2 cups Texturized soy protein (TSP)

2 pounds Ground turkey breast

3 cups Onions, chopped

3 cups Green peppers, chopped

1 tablespoon Garlic, minced

1 tablespoon Soybean oil (vegetable oil)

10 ounces Canned diced tomatoes, including liquid

1 1⁄2 quart Canned tomato sauce

4 ounces Canned green chilies, diced (1/2 cup)

3⁄10 cups Chili powder

2 teaspoons Salt

1 tablespoon Jalapeno peppers, minced

3 quarts Water
Instructions for Soy Turkey Chili Recipe
In a large bowl, pour boiling water over soy protein.
In a 14-quart pot, sauté turkey, onions, peppers and garlic in oil over medium high heat until turkey is no longer pink.
Add rehydrated soy protein and remaining ingredients. Bring to a boil; reduce heat and simmer uncovered for 45 minutes.
Serve with assorted condiments such as shredded lowfat Cheddar cheese, yogurt, sour cream or minced onion. Makes 24 servings.