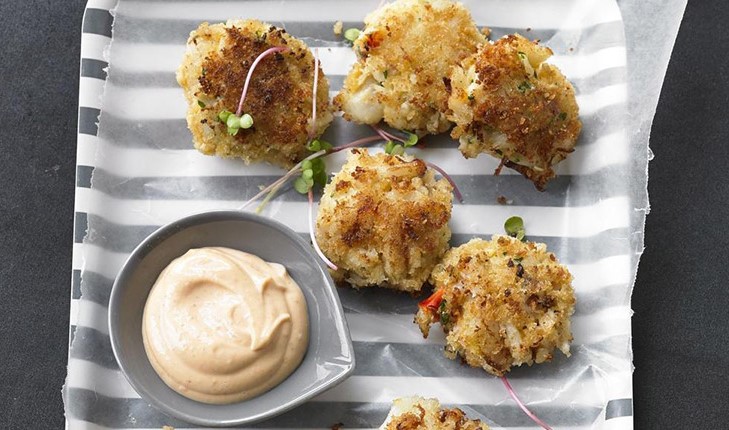 Prep Time:

20 min

Cook Time:

1 hour, 10 min

Total Time:

1 hour 30 min

Makes:

16 servings
Spicy Sriracha Crab Cakes
Ingredients
1 pound Fresh Dungeness crab meat, picked clean and drained

1⁄3 cup Mayonnaise, soybean oil based

1⁄4 cup Sour cream

2 tablespoons Finely chopped parsley

1 tablespoon Minced onion

1 tablespoon Sriracha hot sauce

1⁄4 teaspoon Ground black pepper

3 cups Panko bread crumbs

1⁄4 cup Soybean oil, divided (commonly labeled vegetable oil)
Instructions for Spicy Sriracha Crab Cakes
Combine crab meat, mayonnaise, sour cream, parsley, onion, Sriracha and black pepper in medium bowl. Shape crab mixture into 16, 1 ½- inch patties.
Place panko in shallow dish. Gently roll crab cakes in panko, pressing into sides and edges to coat completely. Refrigerate crab cakes for 1 hour.
Heat 2 tablespoons soybean oil in large non-stick frying pan over medium heat. Carefully place 8 crab cakes into hot oil. Fry until golden brown on each side, approximately 2 minutes per side, and warm throughout, Repeat with remaining soybean oil and crab cakes. Serve with Sriracha mayonnaise.