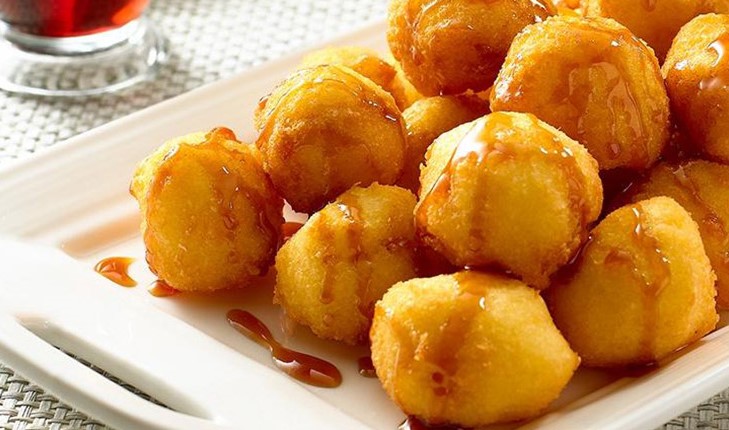 Prep Time:

10 min

Cook Time:

35 min

Total Time:

45 min

Makes:

8 servings
Sweet Yuca Fritters
Ingredients
1⁄2 pound GOYA® Panela - Brown Sugar Cane (coarsely chopped, or ½ lb. brown sugar)

2 GOYA® Cinnamon Sticks

1⁄8 teaspoon Ground cloves

2 pounds Frozen GOYA® Grated Yuca (thawed and drained)

3 Egg yolks

2 tablespoons Sugar

1 teaspoon Baking powder

1 teaspoon Salt

4 cups GOYA® Vegetable Oil (for frying)
Instructions for Sweet Yuca Fritters
For the Syrup:
Add ½ cup water, panela, cinnamon and cloves to small saucepan over medium-high heat. Cook, stirring occasionally, until sugar is dissolved and liquid reduces to 2/3 cup, about 15 minutes; set aside and keep warm.
For the Fritters:
In medium bowl, mix together grated yuca, egg yolks, sugar, baking powder and salt until thoroughly combined. Using heaping tablespoon measure, scoop dough into hands; roll dough into small balls (you will have about 25 balls).
Add 1½ - 2 inches oil to medium, heavy-bottomed pot. Heat oil over medium-high heat until hot, but not smoking (temperature should register 350°F on deep fry thermometer). Add yuca balls to oil in batches, taking care not to crowd pot. Cook, maintaining hot oil temperature (325°F-350°F), until fritters are cooked through and develop golden brown crust, about 5 minutes. Transfer to paper towel-lined plate to drain.
To serve, transfer warm fritters to serving plate; drizzle with reserved syrup.
Notes:
In many Latin American countries, like Venezuela, the Dominican Republic and Honduras, Sweet Yuca Fritters, or buñuelos de Yuca, shine as the centerpiece of the dessert table, especially during holidays like Christmas. In this traditional recipe, GOYA® Grated Yuca makes the dough easier than ever to prepare. Simply mix together the yuca dough, roll into balls and cook. For a sweet finish, top fritters with a dazzling cinnamon-spiked syrup.