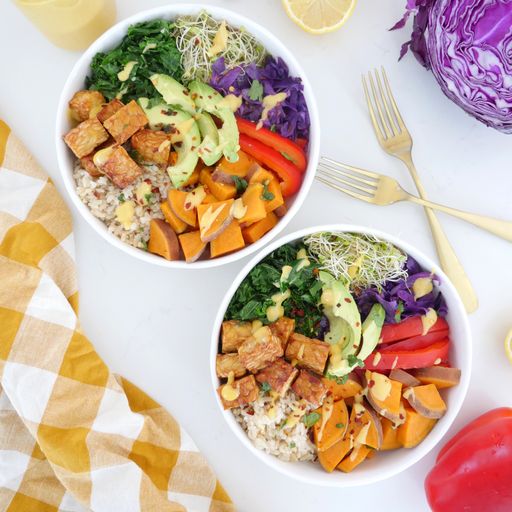 Prep Time:

20 Minutes

Cook Time:

25 Minutes

Total Time:

45 Minutes

Makes:
Tempeh Nourish Bowl with Lemon Miso Dressing
Ingredients
Base:

8 ounces tempeh, cut into 1-inch pieces

2 tbsp soybean oil

4 cups chopped kale

2 cups thinly sliced red cabbage

2 cups cooked brown rice

1 medium sweet potato, chopped

½ medium red bell pepper, thinly sliced

1/2 avocado, thinly sliced

1 cup sprouts

Suggested toppings: red pepper flakes, fresh cilantro

Tempeh marinade:

2 tbsp soybean oil

3 tbsp balsamic vinegar

2 tbsp maple syrup

2 tbsp soy sauce

2 cloves of garlic, minced

2 tbsp water

Dressing:

2 tbsp white miso

3 tbsp lemon juice

2 tbsp tahini

1 tsp garlic powder

1 tsp dried parsley

½ tsp mustard

Water to thin
Instructions for Tempeh Nourish Bowl with Lemon Miso Dressing
Marinate the tempeh. Place tempeh marinade ingredients in a large mixing bowl and whisk together until combined. Place tempeh in the bowl and toss to coat. Place tempeh in the fridge and allow to marinate for at least 1 hour.
Preheat the oven to 350 F.
Place marinated tempeh on a parchment paper-lined baking sheet in a single layer and bake for 25 minutes.
Make the dressing. Whisk together the miso, lemon juice, tahini, garlic powder, parsley and mustard until combined. Add water one tablespoon at a time until the dressing reaches your desired consistency. Set aside.
Place sweet potatoes in a small saucepan and cover with water. Bring to a boil, then reduce to a simmer and cook until the potatoes have softened, about 10 minutes.
Cook the kale in a large skillet with a splash of water until soft and divide between two serving bowls along with remaining bowl ingredients. Drizzle the dressing on top.