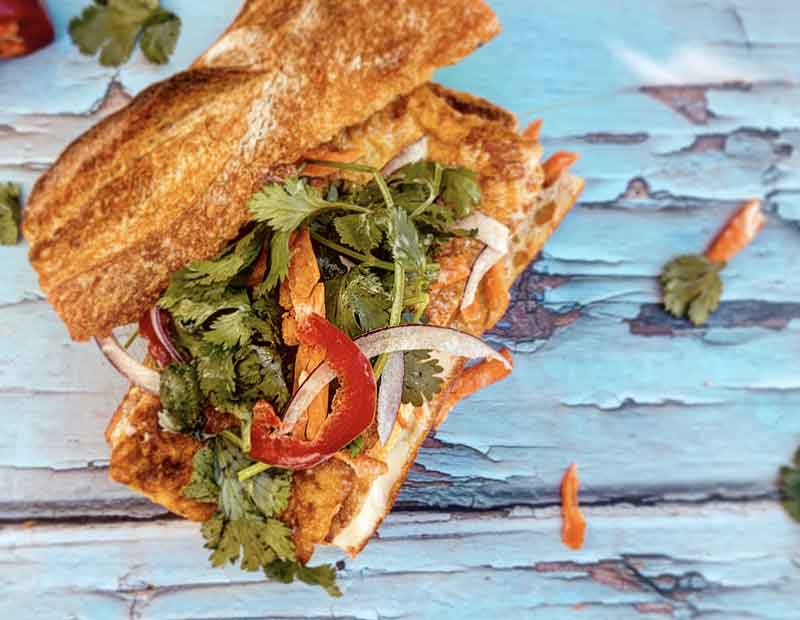 Prep Time:

8 minutes

Cook Time:

5 minutes

Total Time:

13 minutes

Makes:

2 sandwiches
Tofu Banh Mi
Ingredients
Pickled Vegetables
- 1 ½ cup carrots, shredded
- 6 red chilies, sliced (more or less depending on how much heat you can handle)
- ½ cup sugar
- 1 cup water
- 1 cup white vinegar
- 1 teaspoon fish sauce


Fish Sauce Mayo
- ¼ cup mayo
- ½ teaspoon fish sauce
- ½ of a lime, just the juice
- ½ teaspoon sugar


To Finish
- 2 baguettes
- 6 ounces fried tofu (you can find it at any Asian market)
- 1 handful mint leaves
- 1 handful cilantro
- 1 lime
- Soybean Oil

Instructions for Tofu Banh Mi
Let's start with quickly pickling our vegetables. Shred your carrots, slice up the chilies, and toss them into a bowl or jar. Add the sugar, water, vinegar, and fish sauce. Stir to dissolve sugar and set aside to do its thing. Give it a shake/stir every so often.


Now let's make our fish sauce mayo. Grab a bowl and whisk together the mayo, fish sauce, lime juice, and sugar. Set aside, we'll smear it on the baguette later.


Grab a medium pan and place it over med-high heat. Slice open your baguettes and place bready side down into the dry pan to toast. When they're done, pop them on a plate.


In the same pan, drizzle a bit of soybean oil. Grab your fried tofu and sear it a few minutes on each side, until crispy.


Build Banh Mis! For each sandwich, start with your baguette on a plate. Spread generously with fish sauce mayo. Add your fried tofu to the baguette. Tear the mint and cilantro over the tofu. Top with your quick pickled veg. Serve the Banh Mi with lime wedges for squeezing. Nailed it!