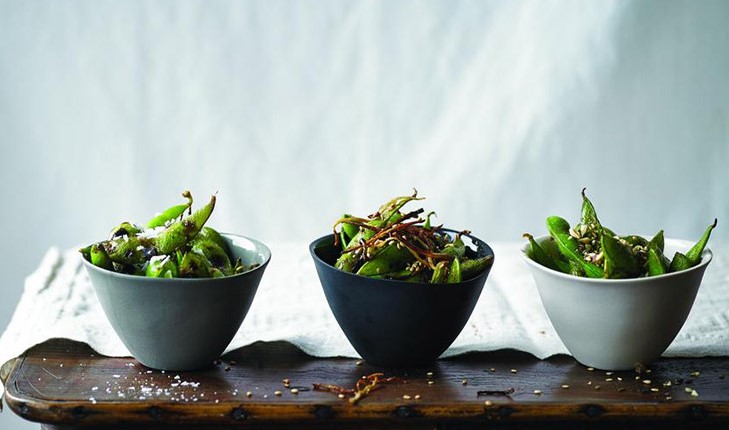 Prep Time:

5 min

Cook Time:

5 min

Total Time:

10 min

Makes:

16 servings
Wok Charred Edamame 3 Ways
Ingredients
2 tablespoons Soybean oil (commonly labeled as vegetable oil)

4 cups Edamame, in-shell, thawed

1 tablespoon Soy sauce (for the Soy Ginger Seasoning)

2 teaspoons Fresh ginger (for the Soy Ginger Seasoning)

1 teaspoon Sesame seeds (for the Soy Ginger Seasoning)

2 tablespoons Maple syrup (for the Maple Balsamic Seasoning)

1 tablespoon Balsamic vinegar (for the Maple Balsamic Seasoning)

1 teaspoon Sea salt (for the Maple Balsamic Seasoning)

2 tablespoons Dukkah spice blend (for the Dukkah Spiced Seasoning)
Instructions for Wok Charred Edamame 3 Ways
Heat soybean oil over high heat in a wok or skillet. Add edamame; sauté for 3 to 5 minutes, stirring constantly, until pods begin to lightly char. Remove and season as desired.
To make the soy ginger seasoning, mix 1 tablespoon of soy sauce with 2 teaspoons of fresh ginger and 1 teaspoon of sesame seeds.
To make the maple balsamic seasoning, mix 2 tablespoons of maple syrup with 1 tablespoon of balsamic vinegar.