Soy, a well-known food throughout the world, is a versatile ingredient that is ideal in a variety of delicious and easy-to-make recipes. From flavorful sides to decadent desserts, discover the joy of cooking with soy!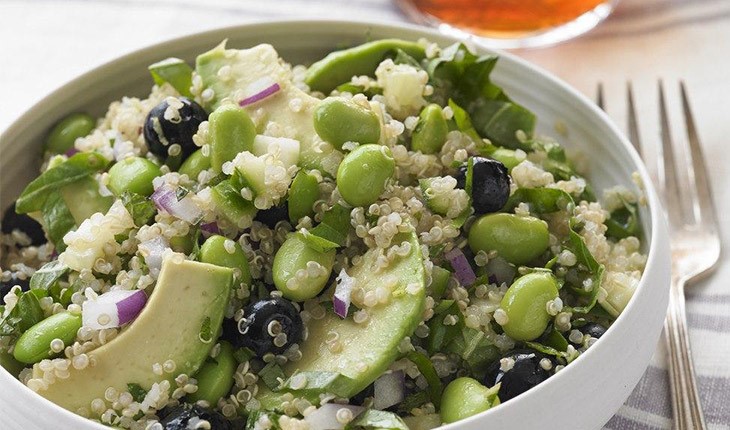 Prep Time:

15 min

Cook Time:

15 min

Total Time:

30 min

Makes:

12 servings
Super Soy and Ancient Grain Salad
Ingredients
2 tablespoons Soybean oil

2 Lemon, juiced and zested

2 teaspoons Dijon mustard

1⁄2 teaspoon Salt

1⁄2 teaspoon Ground black pepper

3 cups Cooked quinoa, cooled

2 cups Edamame, shelled and cooked according to package directions

1 cup Fresh blueberries

1 Cucumber, peeled and seeded (cut into 1/4-inch cubes)

1⁄2 cup Red onion, diced

1⁄2 cup Fresh basil, thinly sliced

1⁄4 cup Fresh mint, finely chopped

2 Ripe avocados (peeled, pitted, and sliced)
Instructions for Super Soy and Ancient Grain Salad
Whisk soybean oil, lemon juice and zest, and mustard in small bowl until smooth; set aside.

Combine quinoa, edamame, blueberries, cucumber, avocado, basil, mint and red onion in medium serving bowl. Pour soybean oil lemon mixture over salad, tossing lightly, until combined. Top with avocado slices. Serve immediately.