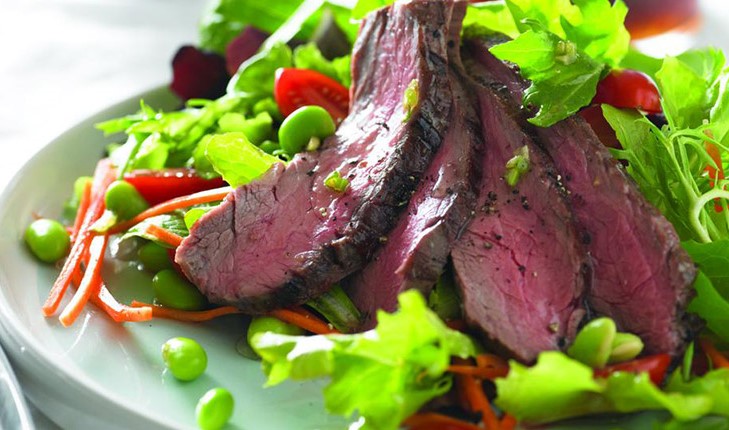 Prep Time:

20 min

Cook Time:

0 min

Total Time:

20 min

Makes:

1 serving
Steak Salad with Ginger Soy Dressing Recipe
Ingredients
GINGER SOY DRESSING
1⁄2 cup Soybean oil
1⁄4 cup Rice vinegar
1⁄4 cup Water
2 tablespoons Reduced sodium soy sauce
1⁄4 cup Fresh green onion, chopped
1 1⁄2 teaspoon Fresh ginger, minced
1 teaspoon Fresh garlic, minced


BEEF SALAD
1⁄2 cup Ginger soy dressing, divided
8 cups Baby salad greens
1 cup Shredded carrots
1 cup Frozen edamame (shelled), cooked according to package directions
1 cup Cherry tomatoes, halved
1 pound Flat iron or flank steak
Instructions for Steak Salad with Ginger Soy Dressing Recipe
TO PREPARE GINGER SOY DRESSING:
Place all Ginger Soy Dressing ingredients in food processor or blender. Process until smooth; cover and refrigerate.


TO PREPARE BEEF SALAD:
Combine greens, carrots, edamame and tomatoes in large bowl. Drizzle with 1/4 cup Ginger Soy Dressing; toss lightly. Divide onto 4 serving plates; top with sliced beef and remaining dressing.