Soy is the only plant protein that carries FDA's heart health claim confirming it may be able to reduce the risk of coronary heart disease. It's also a source of folate, potassium and fiber, and the quality of soy protein is similar to animal protein and higher than the quality of nearly all other plant proteins. That's because soy is a complete protein, which means it contains all nine essential amino acids that our bodies need.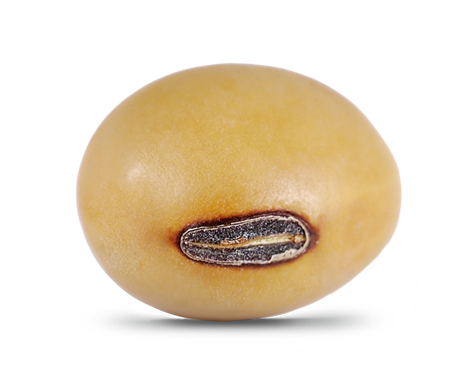 Soy protein is the only plant protein comparable in quality to animal protein
It's easy to incorporate soy-containing foods into your diet. Soyfoods include traditional products like tofu, edamame and tempeh. Soy also boosts protein in many commonly consumed foods in the U.S. diet, including soymilk, plant-based meat alternatives, snacks and meal replacements.
Different types of agriculture technology (AgTech), particularly biotechnology, are bringing farming into the modern age. Bioengineering has multiple benefits for soybean farmers, including reducing herbicide usage, preventing weeds and insects, increasing harvest size and profit, and helping the environment.
Learn more about the different types of soyfoods which can be found in nearly any grocery store:

Whole soybeans appear as raw, dry, roasted nuts and canned beans in grocery stores. Dried yellow soybeans are most commonly available, and all forms of roasted soy nuts are also popular. Black varieties of soybeans may also be found.

Edamame are soybeans harvested at a fresh green stage. They have a larger seed size, and are more oval in shape than either yellow or black soybeans. U.S. grown edamame is available in the pod or shelled in the frozen food and produce sections of grocery stores.

Tofu is a soft food similar to the texture of cheese that comes from the coagulated protein in soymilk. It's highly versatile and has multiple uses in home cooking. Tofu comes baked, smoked, marinated, and crumbled.

Tempeh is a protein-rich fermented soybean cake. Its texture is firm, tender and chewy, and slices or cubes easily without crumbling. Tempeh cooks quickly and can be prepared in hundreds of ways, using a variety of cooking methods.
Try making our recipe featuring tempeh:

Miso is a sweet, flavorful paste made from fermented soybeans. It's used to enhance the taste of sauces, soups, dips, marinades, dressings and main dishes.
Try making our recipe featuring miso:

Soymilk is free of lactose and milk protein, making it an alternative to dairy milk. It comes in many different flavors and can be combined with other ingredients to make a variety of beverages, from chai tea to smoothies. Fortified soymilk is the only plant milk dairy alternative approved by health professionals for children ages one to five.

Soy nut butter is made from roasted whole soybeans rather than peanuts. Its taste and texture are reminiscent of peanut butter, but soy nut butter is a tree nut-free alternative.

Soy sauce is made by fermenting soybeans and wheat with salt and a fermenting compound such as yeast. It's a pantry staple and used in a variety of recipes.
For food industry professionals, soy is a functional plant protein that translates well to various applications, including baking, grilling, microwaving and pan frying. Soy ingredients can promote moisture and flavor retention, aid emulsification and enhance the texture of many foods.
Food companies can capitalize on the growing plant-based protein trend and leverage soy's health halo by sourcing soy protein for their products.
"Soy is the original plant-based based protein. We use a lot of soybean oil – from a bakery perspective in our Goldfish®, to Prego® pasta sauces."
– Andrea Chu, Manager of Responsible Sourcing, The Campbell Soup Company
Types of Soy Protein Ingredients
Soy flour, derived from ground soybeans, boosts protein, brings moisture to baked goods, is gluten free and provides the basis for some soymilks and textured vegetable protein. Soy flours work best in baked goods like cookies and quick breads. There are three types of soy flours: full-fat which contains natural oils found in the soybean, low-fat which contains about 1/3 of the amount of fat as full-fat, and defatted which contains minimal fat.
Try making one of our recipes featuring soy flour:
Textured soy protein can be made from soy flour, soy concentrate or soy protein isolate. Generally, textured soy protein concentrates are made from the soy flour derived from de-fatted soybean flakes. Many new soyfoods entering the marketplace contain textured soy protein, which can be used alone or with meats to make a wide variety of products.
Soy protein isolate is a dry powder that has been separated or isolated from the other components of the soybean. It supplies a high quality protein that contains all amino acids needed for growth. It is commonly used as an ingredient in a variety of packaged foods, including protein bars, breads and baked goods, soups, sauces and more.
Soy protein concentrate is high in protein yet maintains soybeans' natural dietary fiber. It can be used in a variety of foods, from baked goods to plant-based meat alternatives.
Soybeans are naturally rich in dietary fiber, and the fiber can be extracted for use as an ingredient in food. Soy fiber is often found in nutrition bars, beverages, baked goods, cereals and snack foods.
Soy lecithin is commonly found in processed foods, as it is used as an emulsifier or stabilizer. It is a compound that is extracted from soybean oil.