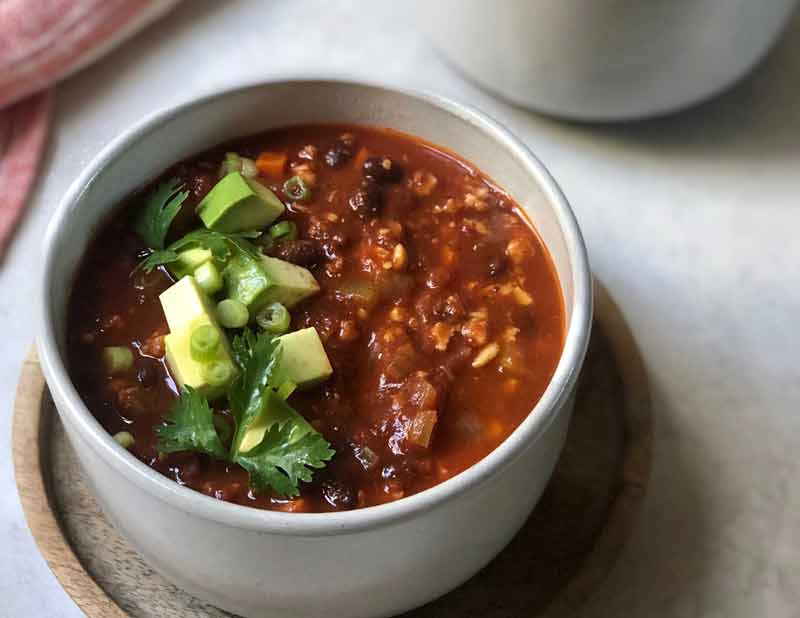 Prep Time:

15 min

Cook Time:

21 min

Total Time:

36 min

Makes:

4
Tex Mex Tempeh Chili
Ingredients
1 tablespoon soybean oil

1 large yellow onion, chopped

1 large carrot, diced

1 stalk celery, diced 8 ounces tempeh

2 tablespoons chili powder

1 teaspoon minced chipotle chile en adobo (see note)

1 teaspoon ground cumin

1 teaspoon paprika

1 teaspoon kosher salt

One 15-ounce can crushed tomatoes

One 15-ounce can black beans, drained

2 cups water
Instructions for Tex Mex Tempeh Chili
Any desired garnishes, such as diced avocado, sour cream, chopped cilantro, grated cheese, or sliced jalapeno peppers.

Heat the soybean oil in a medium saucepan. Add the onion, carrot, and celery and sauté until the onion is tender, about 6 minutes.

Crumble the tempeh into the pot along with the chili powder, chipotle chile en adobo, cumin, paprika, and salt. Sauté 1 minute. Add the tomatoes, black beans, and water. Simmer until the flavors meld, 15 minutes. Add more water or more salt as needed.

Spoon into bowls and top with favorite garnishes.

Makes 4 servings.
Notes:
Tempeh adds such a meaty texture to this chili, you might just fool a true Texan. It also lends plant-based protein that happens to be fermented, so it's good for the gut, too. The chili is pretty quick to pull together and is excellent the next day packed into a thermos for school or work lunch. Chipotle chile en adobo are tender chiles smothered in a smoky sauce and sold in cans in the Mexican food section of supermarkets.