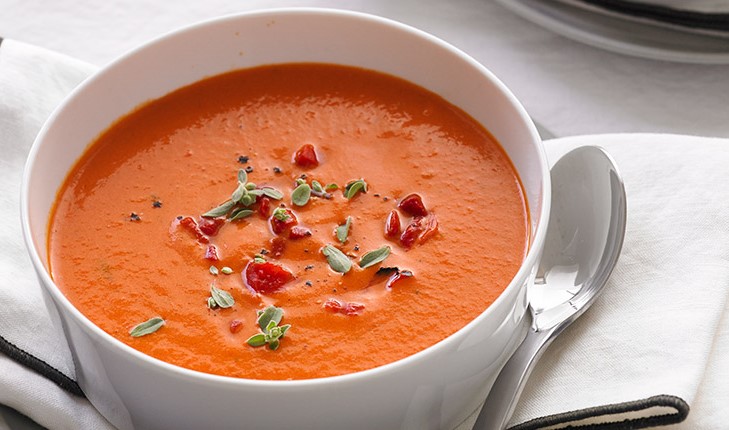 Prep Time:

10 min

Cook Time:

35 min

Total Time:

45 min

Makes:

6 servings
Tomato and Roasted Pepper Soup
Ingredients
1 tablespoonSoybean oil 1 Onion (small), diced

1 clove Garlic, chopped

1 can Peeled unsalted tomatoes, undrained (28 oz.)

1⁄2 cup Roasted red peppers (chopped)

1⁄4 cup Fresh basil leaves (packed)

2 cups Low sodium vegetable or chicken broth

2 cups Plain soymilk

1 teaspoon Salt and Pepper (to taste)
Instructions for Tomato and Roasted Pepper Soup
Heat soybean oil in large saucepan over medium heat. Add onions and garlic and cook for 2 to 3 minutes until soft.

Place onions, garlic, tomatoes, red peppers, basil and vegetable broth in food processor or blender. Puree for 30 seconds until smooth.

Return to saucepan and heat over medium heat. Add soymilk and cook, stirring occasionally, until soup begins to simmer. Season with salt and pepper, as desired.