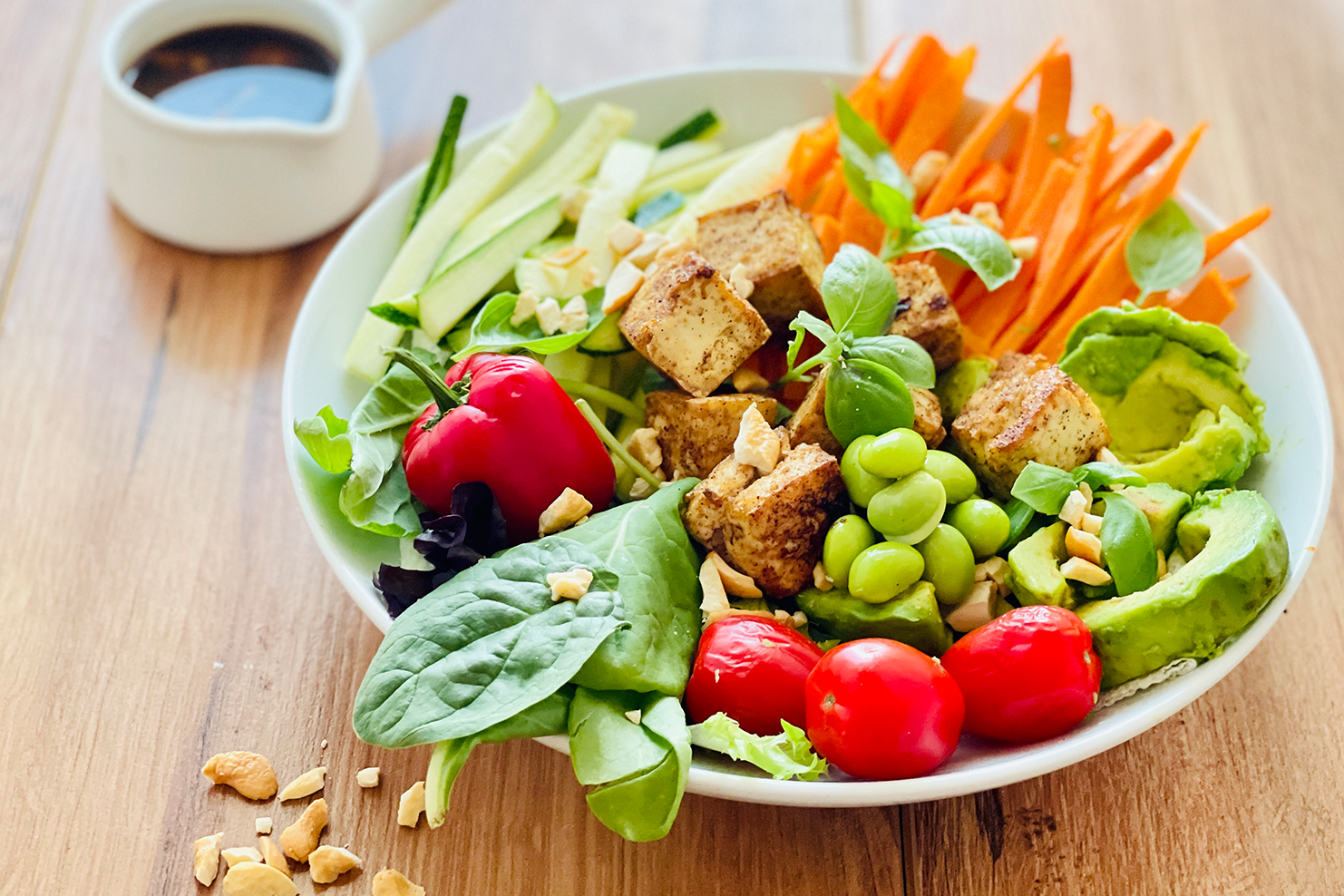 I recently learned how pressing and air frying tofu helps it absorb all the flavors of the dish — my life is changed!

Marinated Tofu Salad with Honey Miso Dressing
Ingredients
Recipe by: Fiona
½ block extra firm tofu

2 medium carrots, julienned

¼ cup shelled edamame

2 medium zucchini, julienned

10 cherry tomatoes, halved

½ cup mixed greens

1 avocado, sliced

2 mini peppers

2 tbsp crushed cashews

1 tsp chia seeds

Marinade

4 tbsp soy sauce

2 tbsp rice vinegar

2 tbsp honey

1 tsp ginger powder

Dressing

4 tbsp honey

3 tbsp soy sauce

3 tbsp rice vinegar


2 tsp yellow miso paste
Instructions for Marinated Tofu Salad with Honey Miso Dressing
Begin by pressing the tofu. Cut block of tofu in half lengthwise, sandwich between two sheets of parchment paper and place on a panini press. Press should not be turned on. Close lid and allow weight of lid to squeeze out excess moisture in tofu. Leave tofu in press for approx. 1/2 hour. If you do not have a press, place a frying pan on top of tofu.

Meanwhile pour marinade ingredients into a jar and shake to mix well.

When tofu is ready, cut into cubes and place in a bowl. Cover with marinade and allow tofu to absorb the flavors for 30 minutes or longer.

Meanwhile pour dressing ingredients into a jar, shake well and set aside until ready to use.
Artistically prepare 2 plates with carrots, edamame, zucchini, tomato, mixed greens, avocado and mini peppers. Top with cashews and chia seeds.

Place marinated tofu in the basket of an air fryer which has been spritzed with olive oil. Bake for 8 minutes at 400F. Divide cooked tofu equally between 2 plates and serve with a generous helping of honey miso dressing.