Gout is the most common inflammatory arthritis in the U.S., characterized by the painful buildup of uric acid crystals in joints. People with gout often have a wide variety of co-morbid conditions, many of which include nutrition recommendations as part of treatment. Most notably, 74% of people with gout have hypertension (HTN), and 70% have chronic kidney disease (CKD).1 Other common nutrition-related co-morbidities include coronary artery disease, stroke, heart failure, nephrolithiasis, diabetes, metabolic syndrome, and osteoporosis.1 Given the high prevalence of co-morbid conditions, it is imperative that nutrition recommendations address the patient's entire medical history; not just gout.
The historical diet recommendation for gout is one low in purines, which implies total or partial avoidance of all foods that contain purines. Purines are metabolized to uric acid, and high uric acid levels are diagnostic of gout. Foods that are typically included on "high" purine food lists include red meat, game meats, turkey, most types of seafood, some types of fish, soyfoods, beer, and organ meats. Some plant foods are also considered "high" in purine such as asparagus, mushrooms, green peas, spinach, cauliflower, beans, and oatmeal.
However, there are no data to suggest that a low purine diet improves gout symptoms, serum uric acid levels, or prevents gout.2 Low purine diets have been deemphasized in recent years due to limited research and questionable effectiveness.3 Although red meat and seafood have been associated with gout and hyperuricemia, plant foods higher in purines (such as soyfoods) do not appear to have the same effect. Most studies have found that dietary patterns that include soyfoods do not increase the risk of gout or raise uric acid levels when consumed as part of a balanced diet.3-5 In fact, it could be harmful to limit vegetables and other plant foods for people with gout. Consuming plant foods is beneficial for most other chronic conditions such as heart disease, kidney disease, and diabetes.
Many foods higher in protein are classified as "high" purine, including nearly all animal flesh proteins, as well as soyfoods, beans, and lentils. A strict low purine diet would likely result in a lower percentage of calories from protein and a subsequent increase in calories from carbohydrate and/or fat. This shift in energy source could exacerbate blood glucose or have a negative impact on blood lipids or body weight. Of note, total protein is not associated with worse gout outcomes, whereas results suggest that higher levels of meat and seafood consumption are associated with higher levels of serum uric acid.6
In addition, following a low purine diet can be difficult as there is no definition of how much purine constitutes a low purine diet and no cutoff to define a "low" or "high" purine food. Even if these definitions existed, the amount of purine is not listed on Nutrition Facts labels, making it nearly impossible to quantify how much purine is consumed. Instead, patients are often told to completely avoid certain "high" purine foods. Diets that advocate complete avoidance of certain foods may be difficult to maintain.
Given the limitations of a low purine diet, nutrition recommendations for gout have shifted to focus on whole dietary patterns and not the simple reduction of dietary purine. Many plant-forward eating patterns have been association with reduced incidence of gout and hyperuricemia.7–12
DASH Dietary Pattern
The Dietary Approaches to Stop Hypertension (DASH) dietary pattern may be a good option for people with gout as many studies have demonstrated its benefit for the prevention and treatment of gout and uric acid levels.7–9 In addition, the DASH dietary pattern is highly effective at lowering elevated blood pressure, which is prevalent in the gout population.13 The DASH dietary pattern focuses on large amounts of fruits and vegetables along with whole grains, plant proteins, and low-fat dairy, while limiting red meat and sweets.
The DASH dietary pattern highlights many specific foods associated with improved gout symptoms. A meta-analysis found an increased risk of gout with higher intake of red meat, seafood, alcohol and fructose consumption, and a reduced risk with dairy and soyfoods. Notably, high purine vegetables had no correlation with hyperuricemia or risk of gout.12
Mediterranean Diet
The Mediterranean Diet is similar to the DASH diet as it focuses on fruits and vegetables, whole grains, leaner meats, and healthy fats and oils. This dietary pattern has also been correlated with a reduced risk of hyperuricemia.10
Vegetarian Diet and Other Considerations
Similarly, vegetarian diets have also been associated with a reduced risk of gout.11
In addition to dietary patterns, some specific foods and nutrients are important to consider for people with gout. Alcohol and high fructose corn syrup have consistently been associated with an increased risk of gout.6,12,14 Conversely, vitamin C, dairy, and coffee appear to be inversely associated with the risk of gout.6,12,14
Weight loss is a common recommendation for people with gout. However, popular weight loss diets are often very high in protein (e.g., some versions of the Keto diet), which could lead to consumption of large amounts of red meat and other protein sources associated with risk of gout and hyperuricemia. If weight loss is appropriate, patients must be given adequate guidance on healthy weight loss strategies consistent with gout recommendations to avoid inadvertently exacerbating gout symptoms.
Ultimately, nutrition for gout should be individualized to each patient by a registered dietitian nutritionist (RDN) who is skilled at combining nutrition recommendations for multiple health conditions. The table below provides a summary of recommendations for RDNs to consider when working with patients with gout.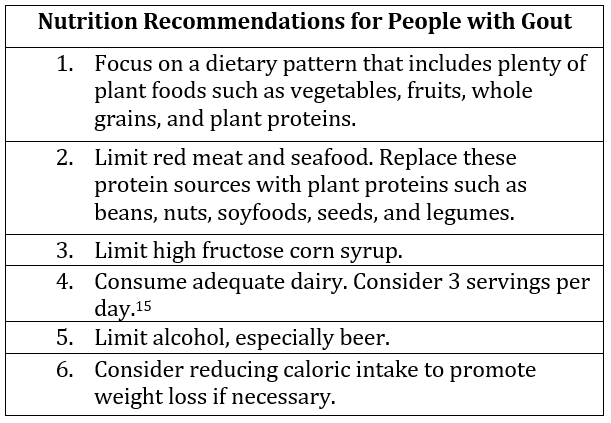 REFERENCES:
1. Singh JA, Gaffo A. Gout epidemiology and comorbidities. Seminars in Arthritis and Rheumatism. 2020;50(3, Supplement):S11-S16. doi:10.1016/j.semarthrit.2020.04.008
2. Nielsen SM, Zobbe K, Kristensen LE, Christensen R. Nutritional recommendations for gout: An update from clinical epidemiology. Autoimmunity Reviews. 2018;17(11):1090-1096. doi:10.1016/j.autrev.2018.05.008
3. Yokose C, McCormick N, Choi HK. The role of diet in hyperuricemia and gout. Current Opinion in Rheumatology. 2021;33(2):135-144. doi:10.1097/BOR.0000000000000779
4. Zhang M, Lin L, Liu H. Acute effect of soy and soy products on serum uric acid concentration among healthy Chinese men. Asia Pac J Clin Nutr. 2018;27(6):1239-1242. doi:10.6133/apjcn.201811_27(6).0010
5. Breslau NA, Brinkley L, Hill KD, Pak CY. Relationship of animal protein-rich diet to kidney stone formation and calcium metabolism. J Clin Endocrinol Metab. 1988;66(1):140-146. doi:10.1210/jcem-66-1-140
6. Choi HK, Liu S, Curhan G. Intake of purine-rich foods, protein, and dairy products and relationship to serum levels of uric acid: the Third National Health and Nutrition Examination Survey. Arthritis Rheum. 2005;52(1):283-289. doi:10.1002/art.20761
7. Rai SK, Fung TT, Lu N, Keller SF, Curhan GC, Choi HK. The Dietary Approaches to Stop Hypertension (DASH) diet, Western diet, and risk of gout in men: prospective cohort study. BMJ. 2017;357:j1794. doi:10.1136/bmj.j1794
8. Juraschek SP, Gelber AC, Choi HK, Appel LJ, Miller III ER. Effects of the Dietary Approaches to Stop Hypertension (DASH) Diet and Sodium Intake on Serum Uric Acid. Arthritis & Rheumatology. 2016;68(12):3002-3009. doi:10.1002/art.39813
9. Gao Y, Cui L fu, Sun Y yuan, et al. Adherence to the Dietary Approaches to Stop Hypertension Diet and Hyperuricemia: A Cross-Sectional Study. Arthritis Care & Research. 2021;73(4):603-611. doi:10.1002/acr.24150
10. Guasch-Ferré M, Bulló M, Babio N, et al. Mediterranean diet and risk of hyperuricemia in elderly participants at high cardiovascular risk. J Gerontol A Biol Sci Med Sci. 2013;68(10):1263-1270. doi:10.1093/gerona/glt028
11. Chiu THT, Liu CH, Chang CC, Lin MN, Lin CL. Vegetarian diet and risk of gout in two separate prospective cohort studies. Clin Nutr. 2020;39(3):837-844. doi:10.1016/j.clnu.2019.03.016
12. Li R, Yu K, Li C. Dietary factors and risk of gout and hyperuricemia: A meta-analysis and systematic review. Asia Pacific Journal of Clinical Nutrition. 27(6):1344-1356. doi:10.3316/informit.035855541517363
13. Sacks FM, Svetkey LP, Vollmer WM, et al. Effects on Blood Pressure of Reduced Dietary Sodium and the Dietary Approaches to Stop Hypertension (DASH) Diet. New England Journal of Medicine. 2001;344(1):3-10. doi:10.1056/NEJM200101043440101
14. Towiwat P, Li ZG. The association of vitamin C, alcohol, coffee, tea, milk and yogurt with uric acid and gout. International Journal of Rheumatic Diseases. 2015;18(5):495-501. doi:10.1111/1756-185X.12622
15. U.S. Department of Agriculture and U.S. Department of Health and Human Services. Dietary Guidelines for Americans, 2020-2025. 9th Edition. December 2020. Available at DietaryGuidelines.gov.