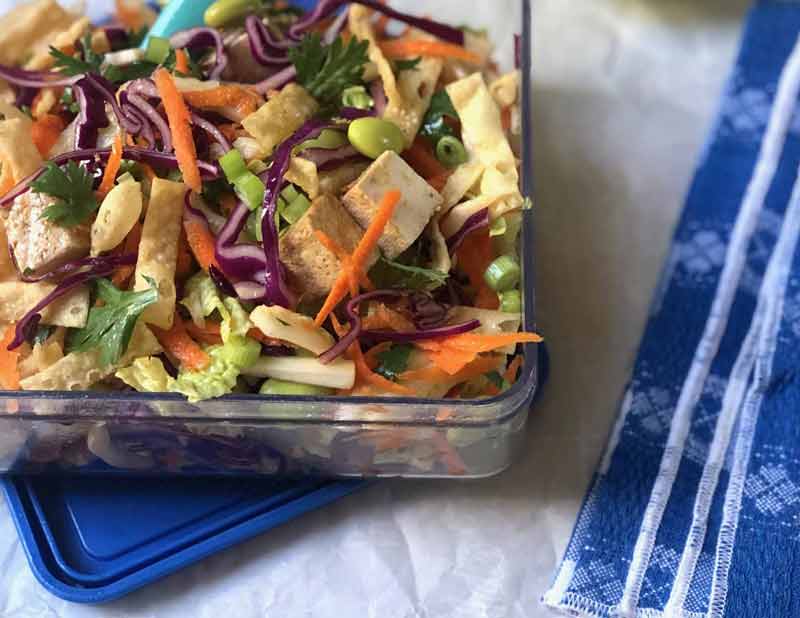 Prep Time:

25 min

Cook Time:

0

Total Time:

25 min

Makes:

2
Chinese Chickenless Lunch Box Salad
Ingredients
3 cups shredded cabbage

1 large shredded carrot

½ cup cooked edamame

8 ounces baked tofu, cut into

½-inch cubes

3 green onions, white and light green parts, thinly sliced

¼ cup chopped cilantro

2 tablespoons seasoned rice vinegar

1 teaspoon soy sauce

1 ½ teaspoons toasted sesame oil

¼ cup crispy wonton strips (or toasted nuts or peanuts)
Instructions for Chinese Chickenless Lunch Box Salad
In a large bowl, toss together all of the ingredients except the wonton strips. Divide between 2 lunch containers with a tight seal. Divide the wonton strips between 2 small containers or snack bags.

Just before eating, add the wonton strips to the salad.

Makes 2 servings.
Notes:
The cabbage, carrots, and tofu in this salad make it perfect for packing in school lunches, since the vegetables stay crunchy for several hours. You even can assemble everything the night before and then quickly dress the salad in the morning before popping into lunch boxes. To keep the wontons nice and crisp, put them in a separate container and add them just before serving.