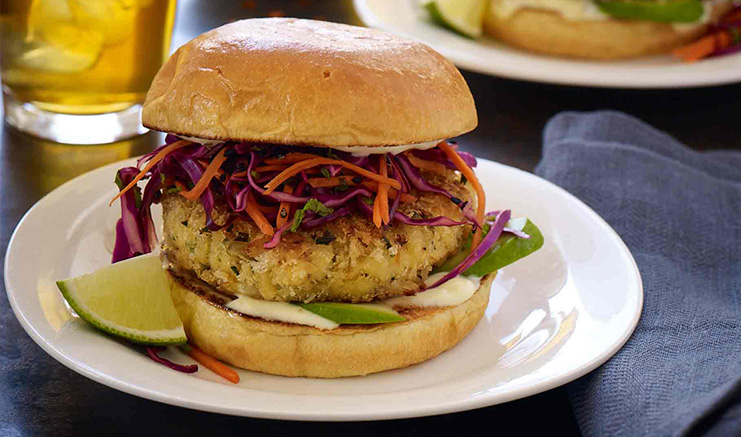 Prep Time:

1 hour and 30 minutes

Cook Time:

8 minutes

Total Time:

1 hour and 45 minutes

Makes:

4
Crab Cake Sandwich with Black Sesame Slaw and Avocado
Ingredients
1 egg, large or extra-large

Juice of ½ lemon, about 2 tablespoons

½ cup soybean oil (commonly labelled as vegetable oil)

Kosher salt and freshly ground black pepper, to taste

1 pound lump crabmeat, picked to remove bits of shell

Juice of ½ lemon, about 2 tablespoons

1 garlic clove, minced

¾ cup minced chives

1 egg, large or extra-large

1 ½ cups panko breadcrumbs, divided

Kosher salt and freshly ground black pepper, to taste

1 chile pepper (any type), stemmed, seeded and minced

¼ red cabbage, shredded

2 carrots, peeled and shredded

1 cup fresh mint leaves, chopped

2 tablespoons black sesame seeds

1 tablespoon soy sauce

1 tablespoon Thai or Vietnamese fish sauce

2 tablespoons honey

Juice of 2 limes

Kosher salt and freshly ground black pepper, to taste

½ cup soybean oil (commonly labelled as vegetable oil)

4 brioche rolls, split

Kosher salt and freshly ground black pepper, to taste

1 avocado, peeled, pitted and sliced thin
Instructions for Crab Cake Sandwich with Black Sesame Slaw and Avocado
Mayonnaise
Whisk the egg and lemon juice in a small mixing bowl.Add the oil very slowly, whisking the whole time. If the mixture looks oily, stop adding the oil and mix vigorously until the oil slick is incorporated. Once all of the oil is added the mixture will be thick and creamy.
Stir in the remaining lemon juice, salt and pepper.
Crab cakes
Combine the crabmeat, lemon juice, garlic, chives, egg, ¼ cup of the homemade mayo, 3/4 cup of the breadcrumbs, salt and pepper, mixing just enough so that everything is coated. Do not over mix.
Put the remaining breadcrumbs on a plate. Scoop the crab mixture into 4 portions, using a 1/3-cup measuring cup, and plop them down on the breadcrumbs. Gently flatten into 2-inch thick cakes and turn them in the breadcrumbs to coat.
Slaw
To make the slaw, mix all of the ingredients in a medium mixing bowl.
Cooking and Assembly
To cook, coat the bottom of a heavy skillet with a little soybean oil, and get hot over medium-high heat. Toast the cut sides of the brioche rolls, about 1 minute and remove to a serving platter.
Add the rest of the soybean oil to the skillet and heat for about a minute. Cook the crab cakes in the hot oil, until browned on both sides, about 3 minutes per side. Remove to a clean surface, pat off any surface oil with paper towels and season with salt and pepper.
To assemble, spread some mayo on the toasted sides of the brioche rolls. Put a crab cake on the bottom half of each roll and top with a few avocado slices and a pile of slaw. Top with the top halves of the rolls. Serve any remaining slaw and mayo on the side.