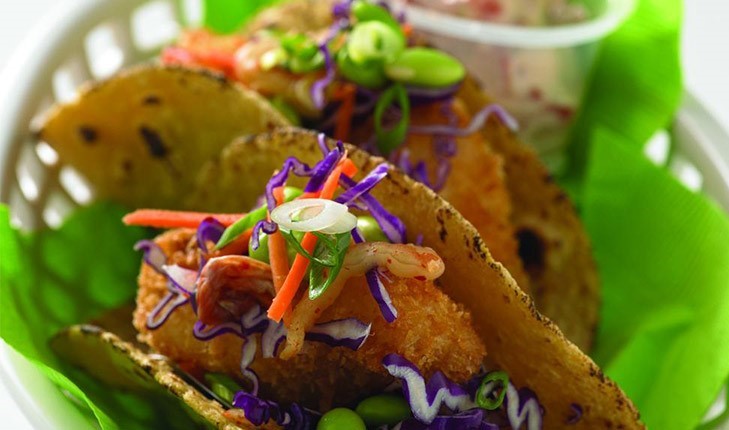 Prep Time:

10 min

Cook Time:

20 min

Total Time:

30 min

Makes:

8 servings
Crispy Fish Tacos with Kimchi
Ingredients
4 cups Soybean oil (for deep frying)

1 Egg (beaten)

1 cup Panko bread crumbs

1 pound Cod filets, uncooked, cut into 2x1-inch strips

6 tablespoons Fire-roasted salsa

2 tablespoons Mayonnaise

8 Fresh corn tortillas, 6-inch

1 cup Kimchi

2 cups Shredded red cabbage

1 cupGrated carrots

1⁄2 cupFrozen edamame (shelled), cooked according to pkg directions
Instructions for Crispy Fish Tacos with Kimchi
Preheat soybean oil to 350°F in heavy frying pan or small deep fryer. Line baking sheet with paper towels.
Place egg in shallow dish. Place panko bread crumbs in a separate shallow dish. Dip fish pieces into egg and then roll in panko, pressing gently into each side of fish, to coat completely.
Carefully place 8 pieces of fish into hot oil. Fry approximately 4 minutes, turning once, until golden brown and crisp. Remove from oil; place on paper towels to drain. Repeat with remaining fish.
Combine salsa and mayonnaise in small bowl. Top each tortilla with 2 pieces of fish, kimchi and assorted vegetables as desired. Serve with salsa mixture.