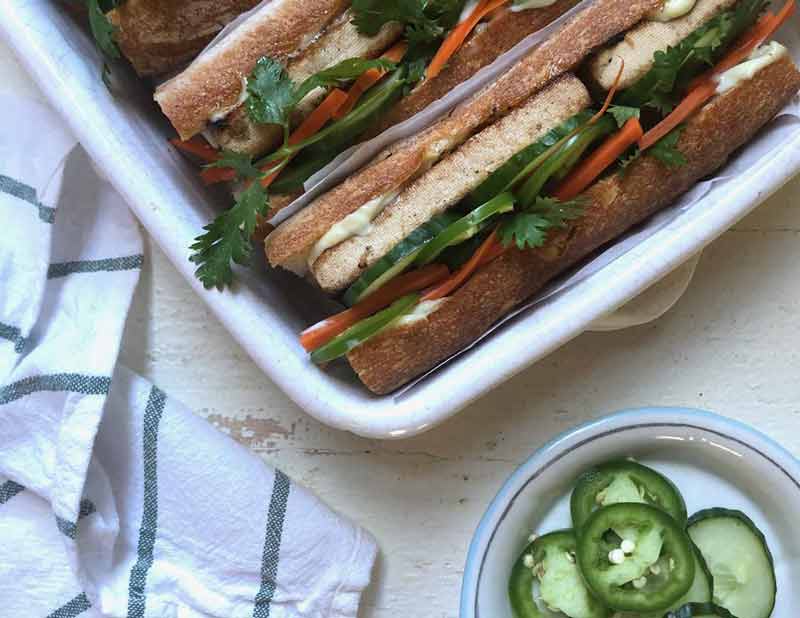 Prep Time:

1 hr

Cook Time:

6 min

Total Time:

1 hr 6 min

Makes:

4
Tofu Banh Mi with Carrot Pickle
Ingredients
Carrot Pickle

2 large carrots

½ cup water

¾ cup white vinegar

¼ cup sugar

1 teaspoon kosher salt
Tofu
14 ounces extra-firm tofu, drained
2 teaspoons soy sauce
Zest of 1 lime
¼ cup lime juice
1 tablespoon sugar
¼ teaspoon black pepper
2 cloves grated garlic
2 teaspoons grated fresh ginger
3 tablespoons soybean oil, divided


To Finish
4 six-inch-long pieces baguette
Mayonnaise
12 thin slices English cucumber
12 thin slices jalapeno pepper or jarred pickled jalapeno
8 cilantro sprigs
Sriracha to taste
Instructions for Tofu Banh Mi with Carrot Pickle
Peel and cut the carrots to the size of matchsticks and put into a medium bowl.

Bring the water, vinegar, sugar, and salt to a boil in a medium saucepan. Stir to dissolve the solids and pour over the carrots. Leave to pickle for at least 30 minutes.

Cut the tofu into ½-inch-thick slabs, like playing cards. In a 9x 13-inch baking pan, whisk together the soy sauce, lime zest, lime juice, sugar, pepper, garlic, ginger, and 2 tablespoons of the soybean oil. Nestle the tofu in a single layer in the pan and marinate for at least 30 minutes, turning the tofu a time or 2.

Heat the remaining 1 tablespoon soybean oil in a large cast iron or non-stick skillet over medium-high heat. Sear the tofu until brown, about 3 minutes per side.

Cut the baguette pieces lengthwise in half, leaving them attached along one side. Lightly toast. Spread mayonnaise generously on the inside of the baguette pieces. Lay tofu on the bottom of the bread and top with cucumber, a generous amount of carrot pickle, cucumber slices, jalapeno pepper (leave out if sensitive to heat), and cilantro sprigs. Add sriracha, if desired.

Makes 4 banh mi.
Notes:
If you're looking for something a little out of the ordinary on "sandwich night", you can't go wrong with banh mi. This Vietnamese specialty is made easy here, since the recipe requires no exotic ingredients. If you have the luxury of time, leave the carrot pickle and tofu to marinate overnight.