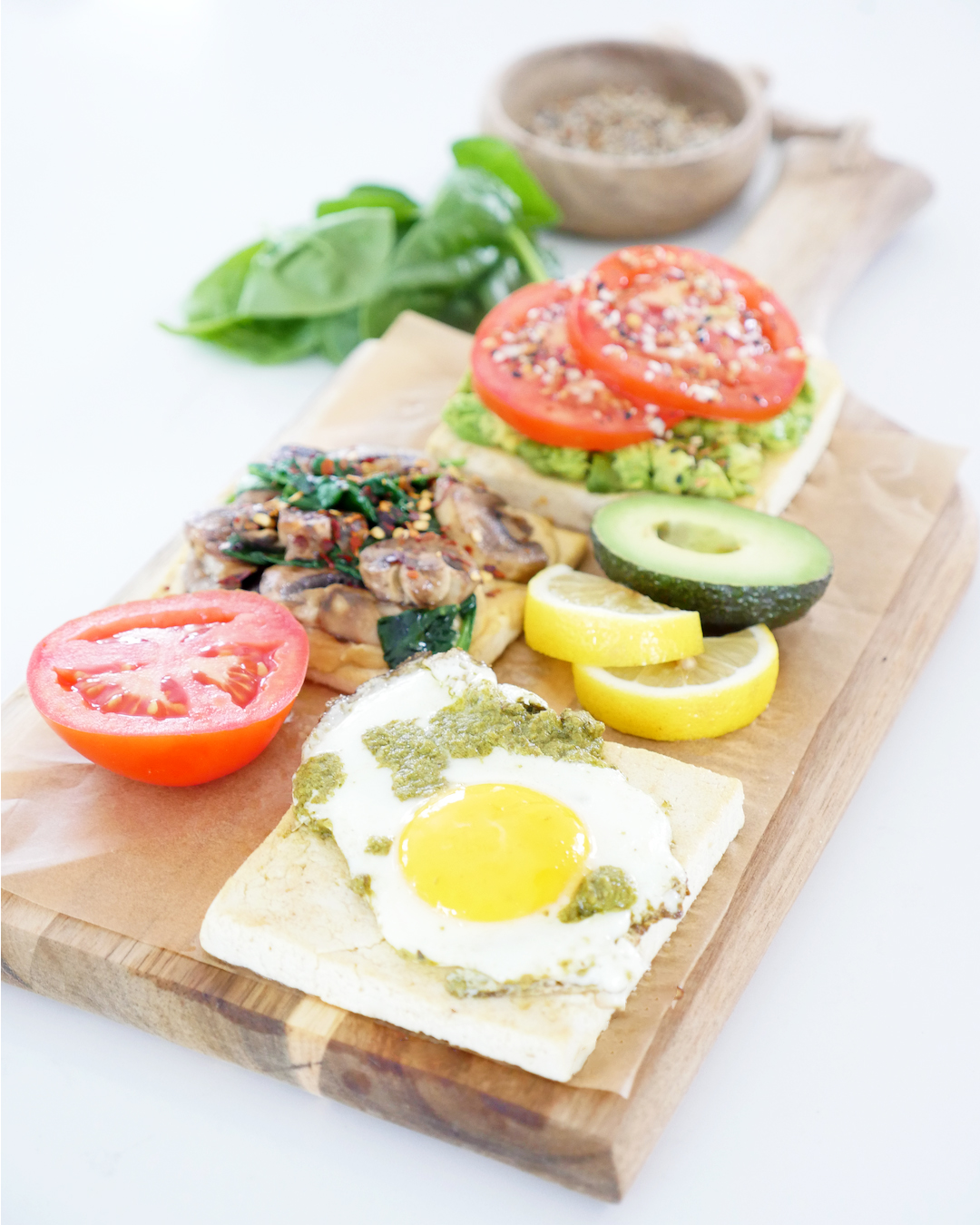 Prep Time:

15 min

Cook Time:

15 min

Total Time:

30 min

Makes:

3 servings
Tofu "Bread" Toast 3 Ways
Ingredients
Recipe by Mia Syn, MS, RDN (@nutritionbymia)
Tofu "Bread":


10 oz. extra firm tofu, drained, pressed and cut into 3 "Bread" slices

1 tbsp soybean (vegetable) oil

Avocado "Toast":

½ avocado, mashed

½ lime, juiced

salt and pepper to taste

1 medium tomato, sliced

everything bagel seasoning for topping at the end

Mushroom spinach "Toast":

1 cup mushrooms, sliced

1 handful spinach

Soybean oil (vegetable oil) spray

Salt to taste

Red pepper flakes for topping at the end

Mushroom spinach "toast":

1 cup mushrooms, sliced

1 handful spinach

Soybean oil (vegetable oil) spray

Salt to taste


Red pepper flakes for topping at the end
Instructions for Tofu "Bread" Toast 3 Ways
1. For the avocado "toast": in a medium bowl, combine mashed avocado with lime juice, salt and pepper. Set aside.

2. For the mushroom spinach "toast": spray a medium skillet with oil and place over medium-high heat. Sauté mushrooms with salt until tender, about 4-5 minutes. Add spinach at the end and cook until wilted. Set side.

3. For pesto egg "toast": warm pesto in a medium skillet over medium heat. Gently crack the egg into the skillet and secure a lid on top. Cook until egg reaches desired doneness. Set aside.

4. For the tofu "bread" slices: Heat oil in a large skillet over medium-high heat. Place tofu slices in the pan and cook until slightly charred about 3 minutes, flip and cook for another 2-3 minutes or until firm. Repeat with remaining tofu "bread" slices.

5. Transfer to a serving plate and add toppings.