Soy Desserts Recipes
Can a sweet tooth and soy nutrition co-exist? These soy desserts recipes prove it. You'll taste that heart healthy soybean oil is the perfect frying oil for donuts or a delicious icing. Or that Tofu is a good source of protein to add to baked goods or a delectable cheesecake. Dig in!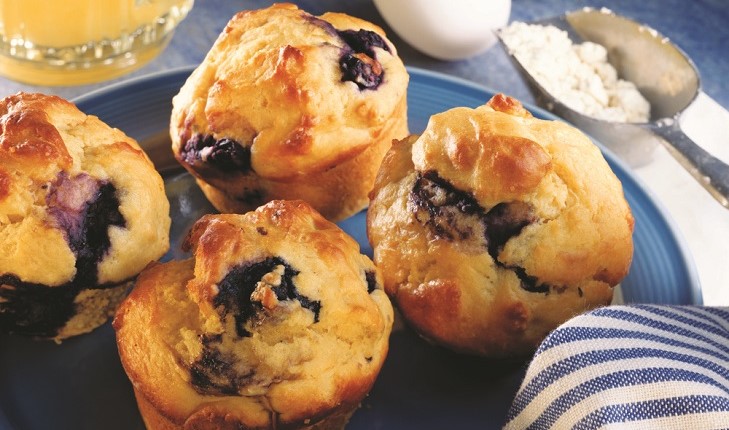 Prep Time:

20 min

Cook Time:

25 min

Total Time:

45 min

Makes:

1 serving
Blueberry Soy Flour Muffins
Ingredients
1 cup Soy flour (or soy protein isolates)

3 cups All-purpose flour

1 tablespoon Baking powder

1⁄2 teaspoon Baking soda

1 teaspoon Salt

1 teaspoon Cream of tartar

2⁄3 cups Granulated sugar

2⁄3 cups Vegetable shortening

2 tablespoons Powdered sugar

1 1⁄2 cup Blueberries, fresh or frozen (do not thaw)

8 Egg whites

2 cups Orange juice
Instructions for Blueberry Soy Flour Muffins
Preheat oven to 400°F. Spray muffin pans with non-stick aerosol cooking spray.
In a large bowl, combine flours, baking powder, baking soda, salt, cream of tartar, and sugar. Stir until well blended. With a pastry blender, cut in shortening until evenly distributed.
Rinse and drain fresh blueberries, pat to dry. Toss with powdered sugar and set aside. If using frozen blueberries, do not rinse. In a small bowl, beat egg whites and orange juice until blended. Add liquid to dry ingredients, stirring only until moistened.
Fold in blueberries.
Spoon batter, 1/4 to 1/3 cup per muffin, into prepared pans. Bake at 400° for 20 to 25 minutes. Turn out of pan immediately. Cool right side up on wire rack.