Soy Desserts Recipes
Can a sweet tooth and soy nutrition co-exist? These soy desserts recipes prove it. You'll taste that heart healthy soybean oil is the perfect frying oil for donuts or a delicious icing. Or that Tofu is a good source of protein to add to baked goods or a delectable cheesecake. Dig in!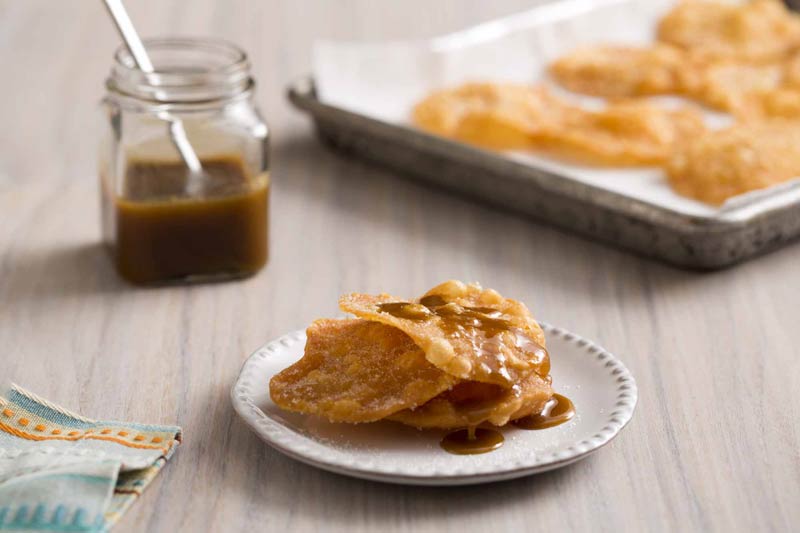 Prep Time:

45 min

Cook Time:

30 min

Total Time:

1 hour, 30 min

Makes:

64 servings
Buñuelos with Rum Syrup
Ingredients
Buñuelos
1 1/2 cup All-purpose flour

1 1⁄2 teaspoon Baking powder

1⁄2 teaspoon Salt

1⁄4 cup U.S. grown soybean shortening, cut into 1/2-inch pieces and chilled

1 large Farm fresh egg, beaten

1 teaspoon Vanilla extract

1 cup Water

6 cups U.S. grown soybean oil for frying


Rum Syrup
4 oz. Piloncillo or 1/2 cup Dark brown sugar, packed

1/2 cup Water

1 Cinnamon stick

1 Star anise or 1 1/2 tsp Anise seed

2 tbsp Dark rum
Instructions for Buñuelos with Rum Syrup
Combine flour, baking powder and salt in a large bowl. Rub in soybean shortening until crumbly. Mix in egg and vanilla. Gradually add the water, kneading until a smooth but sticky dough forms. Add a tablespoon more flour if the dough too sticky to handle. Cover and let rest 15 minutes.
Divide the dough into roughly 64 one-inch pieces and roll into balls using your hands. Using a rolling pin, press each ball into a 2-3 inch round, thin enough to be translucent.
Preheat 6 cups of soybean oil to 350°F in a heavy frying pan or small deep fryer.
While the oil is heating, combine the piloncillo/brown sugar, water, cinnamon stick and star anise in a small sauce pan and heat on medium heat until sugar has dissolved. Strain syrup, discard cinnamon and anise seeds and stir in the rum. Keep warm.
Fry buñuelos about 6 at a time for 30-60 seconds on each side until golden brown. Repeat with remaining buñuelos. Transfer to paper towel lined sheet pans and sprinkle with the granulated sugar.
Drizzle with the warm rum syrup before serving.