Soy Desserts Recipes
Can a sweet tooth and soy nutrition co-exist? These soy desserts recipes prove it. You'll taste that heart healthy soybean oil is the perfect frying oil for donuts or a delicious icing. Or that Tofu is a good source of protein to add to baked goods or a delectable cheesecake. Dig in!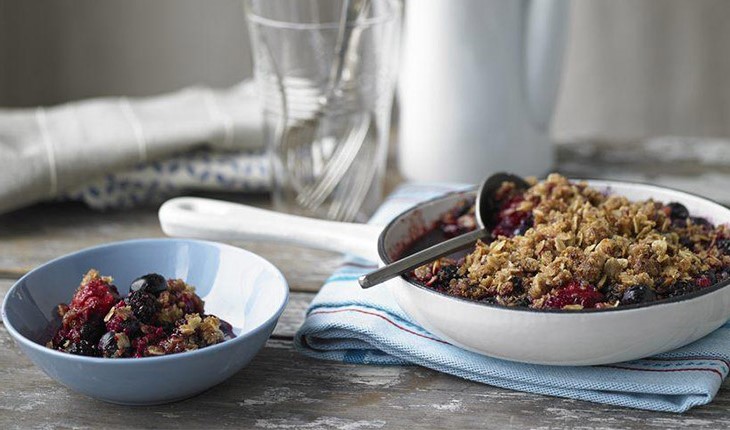 Prep Time:

10 min

Cook Time:

25 min

Total Time:

35 min

Makes:

6 servings
Fresh Fruit and Berry Crumble
Ingredients
4 cups Mixed fresh berries, cleaned and hulled

1 tablespoon Sugar

1⁄3 cup White whole wheat flower

1⁄3 cup Old fashion oats

1⁄3 cup Brown sugar, packed

3 tablespoons Soybean oil (commonly labeled vegetable oil)
Instructions for Fresh Fruit and Berry Crumble
Berry Mixture: Place berries in baking dish, sprinkle with sugar.
Flour Mixture: Combine flour, oats, brown sugar and soybean oil in small bowl. Mix with fork or finger tips until crumbly. Sprinkle over berry mixture.
Baking Instruction:
1. Preheat oven to 375°F. Grease 1 quart baking dish or 9-inch pie pan.
2. Bake for 20 to 25 minutes until topping is light golden brown and fruit mixture is bubbly around the edges.