Soy Desserts Recipes
Can a sweet tooth and soy nutrition co-exist? These soy desserts recipes prove it. You'll taste that heart healthy soybean oil is the perfect frying oil for donuts or a delicious icing. Or that Tofu is a good source of protein to add to baked goods or a delectable cheesecake. Dig in!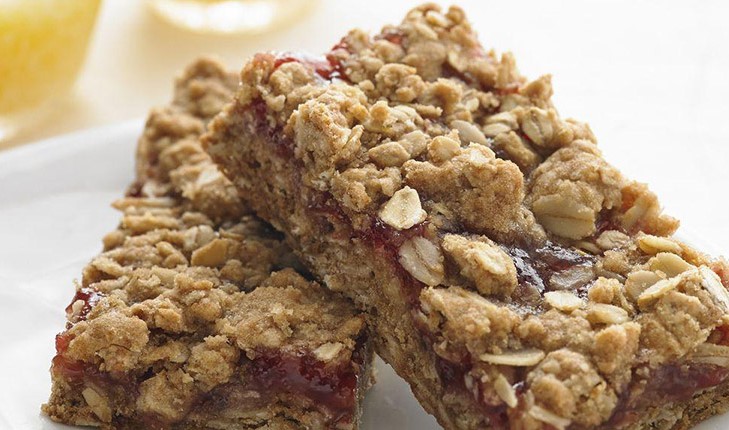 Prep Time:

10 min

Cook Time:

30 min

Total Time:

40 min

Makes:

18 servings
Oat and Jam Cookie Bars
Ingredients
1 1⁄4 cup Quick-cooking oats

1 cup All-purpose flour

2⁄3 cups Light brown sugar, packed

1⁄4 teaspoon Salt

1⁄4 teaspoon Baking soda

1⁄2 cup Soybean oil

10 ounces All-fruit raspberry or strawberry jam (1 jar)
Instructions for Oat and Jam Cookie Bars
Preheat oven to 325° F. Grease 8 x 12-inch baking pan.

Combine oats, flour, brown sugar, salt and baking soda in large bowl. Gradually add oil to oat mixture, tossing lightly, until crumbly. Reserve 1/2 cup for topping; set aside.

Press remaining oat mixture evenly into the bottom of prepared pan. Spread jam evenly over mixture in pan, leaving 1/2 inch border. Sprinkle reserved oat mixture evenly over preserves.

Bake for 30 to 35 minutes or until top is golden brown. Cool completely in pan on wire rack. Cut into 18, 2 x 2-inch bars. Store at room temperature in airtight container.