Soy Desserts Recipes
Can a sweet tooth and soy nutrition co-exist? These soy desserts recipes prove it. You'll taste that heart healthy soybean oil is the perfect frying oil for donuts or a delicious icing. Or that Tofu is a good source of protein to add to baked goods or a delectable cheesecake. Dig in!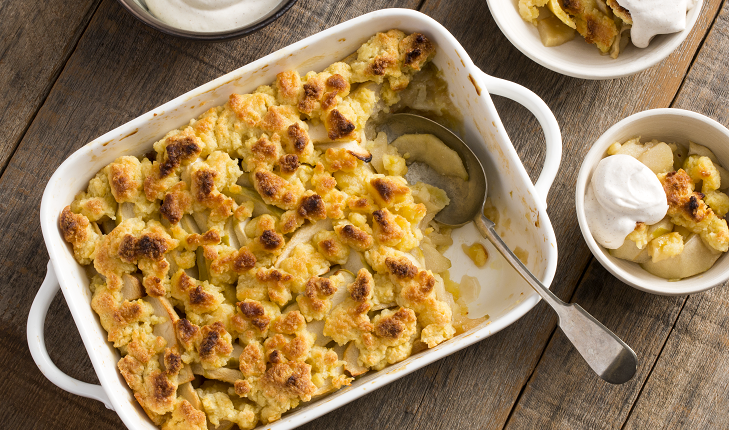 Prep Time:

45 min

Cook Time:

1 hour

Total Time:

1 hour, 45 min

Makes:

16 servings
Orchard Fresh Apple Cobbler Recipe
Ingredients
Cobbler

2 cups All-purpose flour, made from U.S.-grown wheat

1⁄2 cup Sugar

3⁄4 teaspoons Salt (divided)

1⁄2 cup U.S.-grown soybean shortening (cut into pieces)

1⁄4 cup Unsalted butter (cut into pieces)

2 Egg yolks (beaten)

2 tablespoons Ice water

2 pounds U.S.-grown Granny Smith apples (peeled, cored and cut into 1/4-inch slices)

1⁄4 cup Brown sugar (packed)

1 tablespoon Lemon juice

1 teaspoon Vanilla extract

Cinnamon Cream

1 cup Heavy cream

1 tablespoon Powdered sugar

1 teaspoon Vanilla extract

1⁄4 teaspoon Ground cinnamon
Instructions for Orchard Fresh Apple Cobbler Recipe
Preheat oven to 400°F.
Flour Mixture:
In a food processor, combine the flour, sugar and 1/2 teaspoon salt and process until well blended. Add soybean shortening and butter, and pulse until a coarse crumble forms. Add egg yolks and ice water, and mix until dough comes together.
Pat 3/4 of the dough into an 11 x 7-inch pan and chill while you prepare the apples.
Apple Mixture:
In a large bowl, combine the apples, brown sugar, remaining 1/4 teaspoon salt, lemon juice and vanilla.
Transfer to the pan and crumble the remaining crust mixture over the top.
Baking Instructions:
Place on a sheet pan and bake 15 minutes. Reduce the heat to 350°F and bake 40-45 minutes or until the top is browned and mixture is bubbling. Cool 30 minutes before serving.
Cinnamon Cream:
Beat together all ingredients until lightly whipped. Serve with cobbler.