In clinical practice, I am often asked about the nutritional value of non-dairy plant milks (NDPMs). This question usually comes up during office visits when the parents have religious or dietary preferences which exclude dairy or when toddlers and young children have cow's milk protein allergy or lactose intolerance. Although many people are indeed lactose intolerant, some research shows that even those with this condition can tolerate some milk as long as intake is spread throughout the day.3,4 Fortunately, there have been many studies and comprehensive reviews over the past few years comparing the nutritional value of NDPMs with cow's milk that can be of assistance to clinicians in providing patients and their families with the best evidence-based guidance.
Commercially, the most commonly found NDPMs include those made from soybeans, rice, nuts (almond, walnut, hazelnut, and cashew), coconut, oats, hemp, and flax .3,4,6,7 When advising patients and clients, one should emphasize the importance of consuming products fortified with calcium and vitamin D, and perhaps also vitamin A, C, riboflavin, and B12.3,6 Of the various NDPMs, only soymilk (8g) and pea milk (7g) have a protein content similar to cow's milk. Most other NDPMs typically have one quarter to one half the amount of protein of soy and cow's milk.5,6 However, plant milks fortified with isolated forms of plant protein so that their protein content is similar to cow's milk have become available recently.
In addition to providing a similar amount of protein as cow's milk, the quality of soy protein is similar to the quality of cow's milk protein. Protein digestibility-corrected amino acid scores for soy protein range from about 0.95 to 1.0. The quality of soy protein is much better than the quality of the plant proteins found in other NDPMs (see table below).8,9
Aside from their role in meeting nutrient needs, there may be other benefits to consuming NDPMs although whether this is the case will depend upon the type of NDPM consumed and how it is processed. For example, soymilk has been shown to lower cholesterol levels10 and blood pressure.11 Patients may not share that they use NDPMs instead of dairy milk, so having a good understanding about these alternatives can help inform a discussion about dietary habits and, in my experience, is very well-received by the patient.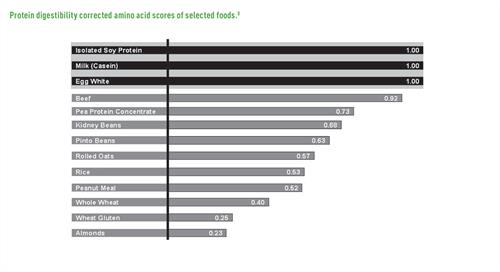 REFERENCES
Suarez FL, Adshead J, Furne JK, et al. Lactose maldigestion is not an impediment to the intake of 1500 mg calcium daily as dairy products [see comments]. Am J Clin Nutr. 1998;68(5):1118-22.
Suarez FL, Savaiano D, Arbisi P, et al. Tolerance to the daily ingestion of two cups of milk by individuals claiming lactose intolerance. Am J Clin Nutr. 1997;65(5):1502-6.
Mitchell, D. and Randall B. "Nondairy milk and lactose intolerance." Salem Press Encyclopedia of Health, (2017). Available at http://eds.b.ebscohost.com.proxy-fs.researchport.umd.edu
Singhal, S. "A Comparison of the Nutritional Value of Cow's Milk and Nondairy Beverages." Journal of Pediatric Gastroenterology and Nutrition, Vol. 64 (5), pp. 799-805 (2017). DOI: 10.1097/MPG.0000000000001380
Schuster, M., Wang, X., Hawkins, T., Painter, J. "Comparison of the Nutrient Content of Cow's Milk and Nondairy Milk Alternatives: What's the Difference?" Nutrition Today. Vol. 53 (4): 153-159 (July, 2018). DOI: 10.1097/NT.0000000000000284
USDA Food Composition Databases. Agricultural Research Service website. https://ndb.nal.usda.gov/ndb/search/list. Accessed May 2019.
Parrish, C.R.. "Moo-ove Over, Cow's Milk: The Rise of Plant-Based Dairy Alternatives". Practical Gastroenterology. Nutrition Issues in Gastroenterology, Series 171: 20-27 (January, 2018). Available at https://med.virginia.edu/ginutrition/wp-content/uploads/sites/199/2014/06/January-18-Milk-Alternatives.pdf
Hughes GJ, Ryan DJ, Mukherjea R, et al. Protein digestibility-corrected amino acid scores (PDCAAS) for soy protein isolates and concentrate: Criteria for evaluation. J Agric Food Chemistry. 2011;59(23):12707-12.
Rutherfurd SM, Fanning AC, Miller BJ, et al. Protein digestibility-corrected amino acid scores and digestible indispensable amino acid scores differentially describe protein quality in growing male rats. J Nutr. 2015;145(2):372-9.
Gardner CD, Messina M, Kiazand A, et al. Effect of two types of soy milk and dairy milk on plasma lipids in hypercholesterolemic adults: a randomized trial. J Am Coll Nutr. 2007;26(6):669-77.
Rivas M, Garay RP, Escanero JF, et al. Soy milk lowers blood pressure in men and women with mild to moderate essential hypertension. J Nutr. 2002;132(7):1900-2.